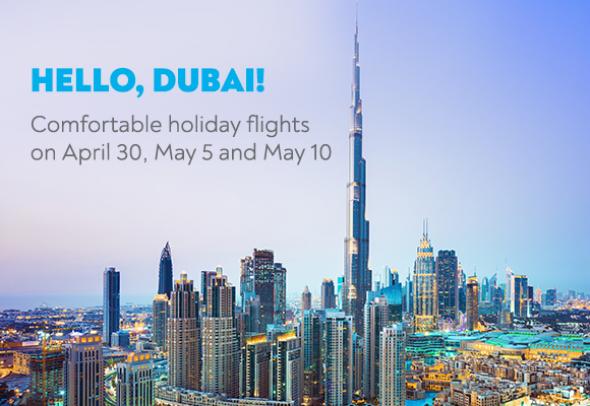 Unforgettable Easter in the Pearl of the Arab World - Dubai with Bulgaria Air
Unforgettable Easter in the Pearl of the Arab World - Dubai with Bulgaria Air

The airline launches 3 exclusive flights to the popular destination in May

Celebrate the May holidays under the hot sun, the desert beaches with sparkling white waters and the captivating splendor of the Arab world with the exclusive flights of Bulgaria Air to sunny Dubai.

The national carrier provides the most passionate inclusions and supporters of exotic and fuel destinations special direct flights to one of the seven Arab Emirates on April 30, May 5 and May 10. Tickets are already on sale and you can buy your seat on the Bulgaria Air website at prices from 249 euros for a return ticket, including hand luggage up to 10 kg + handbag / laptop and the opportunity to purchase checked baggage up to 23 kg for 30 euros one way. The airline also offers fares with checked baggage included, as well as prices departing from Varna.

Regular direct flights to sunny Dubai will start on September 19, and the convenient schedule with departure from Sofia on Friday afternoon and return in the late evening on Sunday guarantees holidaymakers a long weekend with maximum use of time to stay in the final destination , as well as for a longer classic 7 or 9-day break. The company also offers convenient connections to Dubai from Varna.

Meanwhile, the national carrier has significantly expanded its portfolio of destinations and began flying to more than 10 new exotic destinations, including the Greek islands of Crete, Corfu and Rhodes. More information can be found here.

For all the news about Bulgaria Air, follow the company's website and social networks. You can buy tickets online at www.air.bg , through the Bulgaria Air mobile application, from the offices and representative offices in the country and abroad, as well as from the agency network.

In line with its mission to ensure comfortable and safe travel, all flights of the national carrier are performed in accordance with the highest hygiene requirements in the interest of peace and health of all passengers and after strict disinfection with certified detergents and UV machine Honeywell UV Cabin System II, which the world magazine identifies TIME as one of the most innovative inventions for 2020. Air quality in aircraft is guaranteed by special HEPA filtration systems, which ensure constant circulation of heat-treated air to over 200 degrees, limiting the possible spread of any contamination by air. More information about all the measures that the national carrier Bulgaria Air has introduced in the interest of its passengers, read here.