Travel even more comfortable
For just 20 EUR* you can choose to travel on a seat with extra leg space and more comfort on all direct flights operated by Bulgaria Air.
The service is available for:
Aircraft Embraer 90 - Row 3; line 12 (emergency exit **);
Aircraft Airbus A319 - Row 3; line 9 and line 10 (emergency exit **);
Aircraft Airbus A320 - Row 1; row 12 and line 13 (emergency exit **)
* For flights from: Tel Aviv - USD 20; London - GBP 20; Zurich - CHF 20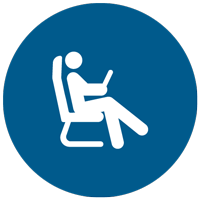 ** Passengers who can not be seated in an emergency exit row:
people with physical, mental and hearing impairments and limitations;
elderly people;
children and babies, including unaccompanied minors (UMNR);
overweight passengers.
You can request and prepay your preferred seat by contacting our
Customer Service Center at +(359) 2 40 20 400,
through the ticket issuer
at airport prior the flight (we recommend you to request the service in advance to make sure we have available seat for you and save time at airport).