Travel even more comfortable
Bulgaria Air gives you the opportunity to guarantee more in-flight comfort!
How? Booking your seat with extra leg space and more comfort- for a fee of 20 EUR per direction*
The service is available forall direct flightsoperated by the airline and for:
Aircraft Embraer E90 - Row 3; line 12 (emergency exit **);
Aircraft Airbus A319 - Row 3; line 9 and line 10 (emergency exit **);
Aircraft Airbus A320 - Row 1; row 12 and line 13 (emergency exit **)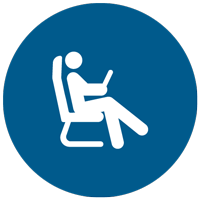 You can request and prepay your preferred seat by contacting our
Customer Service Center at +(359) 2 40 20 400;
through the ticket issuer;
at airport prior the flight (we recommend you to request the service in advance to make sure we have available seat for you and save time at airport).
* For Tel Aviv the fee is USD 20 per direction; for London - GBP 20, for Zurich - CHF 20.
Passengers who can not be seated in an emergency exit ** row:
people with physical, mental and hearing impairments and limitations;
elderly people;
children and babies, including unaccompanied minors (UMNR);
overweight passengers.