Upgrade to business class to be perfect
Bulgaria Air gives you the opportunity to increase the comfort of your trip, thanks to the Upgrade to the business class service.
The Upgrade fee is:
From 24 hours to 40 minutes before scheduled departure in case of availability.
What are the benefits of the business class through the Upgrade service?
By choosing it, you get: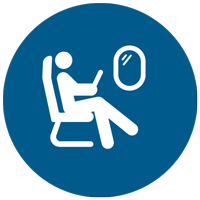 priority check-in and boarding in the airplane;
an additional 1 piece of checked-in baggage;
access to airport business lounges;
comfort and convenience;
if you are a member of our frequent flyer program FLY MORE, you earn more points.
* If the service was purchased at airport just before flight, business class catering is not guaranteed.
The Upgrade fee is:
50 EUR in direction for domestic flights;
100 EUR in direction for all international flights*;
Upgrade can be purchased:
our Customer Service Center at +(359) 2 40 20 400, E-mail: callFB@air.bg - working hours: every day from 08 : 00:00 to 22:00h local time in Bulgaria;
any of Bulgaria Air offices;
the ticket issuer;
at the airport before the flight.
*Per direction London - Sofia, the fee is 100 pounds
Important clarifications:
The service is applicable to all direct flights of Bulgaria Air and is not available for flight numbers FB 1000-1999.
In case of a connecting flight, the luggage permit of the other carrier must be checked and observed with.