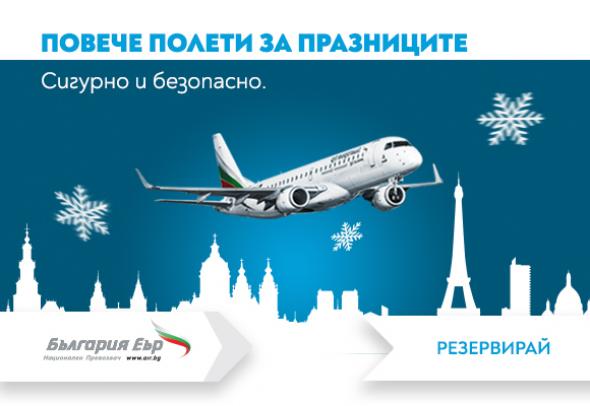 Under strict measures, Bulgaria Air launches additional flights to a number of holiday destinations
Under strict measures, Bulgaria Air launches additional flights to a number of holiday destinations
Additional flights are to Paris, Zurich, Amsterdam, London, Frankfurt, Berlin, Brussels and Athens
With strict hygienic and organizational measures and after disinfection of the aircraft with detergents and UV rays, the national carrier Bulgaria Air will offer everyone who needs to travel a safe and comfortable flight and even more flexible flights.
Especially for the holidays, Bulgaria Air launches additional flights to a number of destinations, including Paris, Zurich, Amsterdam, London, Frankfurt, Berlin, Brussels and Athens. In this way, the airline continues to work in unison with its mission to help passengers and all those who need the trip.
Bulgaria Air has taken all possible measures to ensure a safe, secure and peaceful flight. Before each flight, the aircraft of the national carrier is disinfected with special preparations, as well as with a special UV machine, which has been proven to destroy all viruses and bacteria from smooth surfaces. It thoroughly treats all surfaces to which passengers may come into contact. See here how the planes of the national carrier are disinfected with UV rays:
https://www.air.bg/bg/galerija/naj-inovativniyat-metod-za-dezinfekciya-mashinata-uv-cabin-system-2

Bulgaria Air aircraft are also equipped with special HEPA air filters, which eliminate up to 99.998% of all known bacteria and viruses in the air and renew the cabin air every few minutes. In addition to the recommendations of the aviation and health authorities, hot water, soaps and disinfectants are provided on board the aircraft.
At the same time, the national carrier offers a convenient policy for revalidation of airline tickets.
Thus, even if the passenger has to cancel his flight, he can check it for free for a trip to another date or destination and even transfer it to a relative or friend. Details about the flexible conditions for revalidation of airline tickets can be found here:
https://www.air.bg/bg/covid-19/vyzmojnosti-za-vasheto-pytuvane