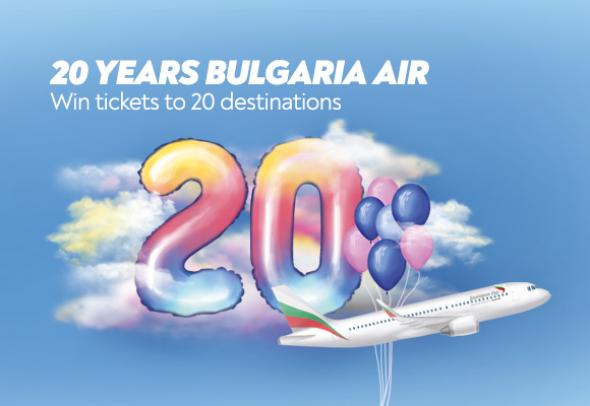 Time flies: Bulgaria Air celebrates its 20th anniversary with special surprises for passengers
On December 4, 2002, the national carrier "Bulgaria Air" operated its first flight on the route Sofia - London - Paris - Sofia. Time flies imperceptibly, and over the years, the airline constantly strives to provide passengers with more and more opportunities to travel to dream destinations, with care to ensure maximum convenience, comfort and improvement of services. Today, Bulgaria Air operates to more than 20 direct international destinations and maintains two domestic routes connecting Sofia, Burgas and Varna.
Especially for its 20th anniversary on December 4, the national carrier surprised all passengers on board on all of the airline's flights with vouchers for a 20% discount on their next trip.
On the occasion of its birthday, Bulgaria Air also launched a game on Instagram, in which 10 travelers will receive double tickets for their next trip. Until December 23, those who want to participate in the game need to follow the airline's page on Instagram, to write which of the destinations served by direct routes of "Bulgaria Air" they would be happy to visit in a comment under the post about the game and tag the person, who they would like to share the second plane ticket with in case they win.
Participants must share the gameplay video to a story on their public account and highlight it by December 23. All travel enthusiasts who meet the full requirements will be entered into a raffle for two tickets to their chosen Bulgaria Air destination. Winners will be announced on December 27. In this way, the airline shares the holiday with all its passengers and thanks them for their trust over the years.
Owing to its dozens of partners, the national carrier provides its passengers with the opportunity to visit almost every amazing corner of the earth. Bulgaria Air has codeshare partnerships with internationally recognized airlines, including ITA Airways, Qatar Airways, Iberia, KLM, Aegean, TAROM and Air Serbia. Just weeks ago, the national carrier also deepened its long-standing codeshare partnership with the French airline Air France, providing even more opportunities for travel between Bulgaria and France.
In addition to this, Bulgaria Air has introduced additional online services that enable any passenger to add a preferred service to their booking via the website or mobile application. This is another step that the airline takes in line with its mission to take care of passengers, offering them the highest quality of service and ensuring a peaceful journey to all who choose to visit their dream destination.
And in the next years, Bulgaria Air will continue to strive to meet all the needs of its customers, providing them with the highest quality of service. The development and improvement of all offered services continues to be a priority for the airline.
We wish you many more unforgettable flights on board the national carrier!