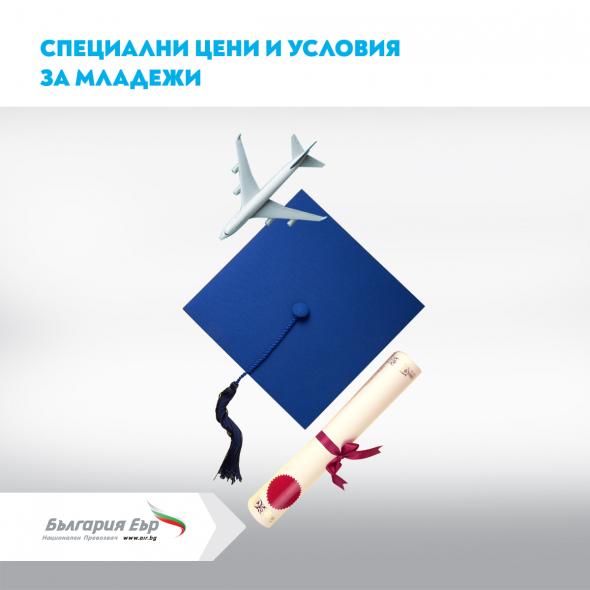 Bulgaria Air with favorable conditions and a new loyalty program with additional privileges for young people
Bulgaria Air with favorable conditions and a new loyalty program with additional privileges for young people

Free transportation of more luggage, discounts on plane tickets and accommodation in the most comfortable seats on the plane are part of the privileges and additional bonuses provided to all who choose transportation with Bulgaria Air at a special youth rate.

The national carrier Bulgaria Air has updated its policy and conditions for its younger passengers and added new discounts and bonuses for everyone between the ages of 12 and 26. Under the special fare, young people can enjoy a number of privileges such as the right to travel with 2 free checked baggage, a completely free change of flight date, as well as the opportunity to apply for a special youth FlyMore YOUTH card.
The updated youth loyalty program FlyMore YOUTH is extremely useful and profitable for anyone who studies abroad or often has to travel for international competitions. Members of the new FlyMore Youth program have the opportunity to travel at a youth fare to take advantage of free accommodation in the most comfortable and spacious seats on the plane, if there are vacancies, and when registering for the program can request the names of four relatives and friends to take advantage of a 20% discount on their ticket when visiting them with flights operated by Bulgaria Air.

Holders of a FlyMore YOUTH card can collect points from each flight operated by Bulgaria Air and exchange them for bonus tickets and other additional services. As participants in the loyalty program of the national carrier, the users of the service also receive a voucher for their birthday with a -25% discount on their next trip.
Anyone who wants to take advantage of the program and the bonuses can do so through the airline's website here, as well as by contacting the loyalty department by email to flymore@air.bg or by the Customer Service Center at callFB@air.bg .

Tickets at youth fares for flights in Bulgaria can be purchased online at www.air.bg , as well as through the Customer Service Center, the airline's offices in the country and abroad, as well as through the agency network.

Information about all flights that Bulgaria Air performs under strict hygiene and organizational measures, after thorough and deep disinfection with licensed detergents and UV rays, can be found at www.air.bg .

All aircraft of the national carrier are equipped with special HEPA filters that constantly renew the air during the flight and filter it at a temperature of over 200 degrees Celsius.

For additional peace of mind for passengers, hot water, soap and disinfectants are provided on board, and to ensure maximum flexibility for all passengers, the national carrier has a convenient policy for free revalidation of already purchased airline tickets. More information about it can be found here.

Bulgaria Air - your safe and secure flight.