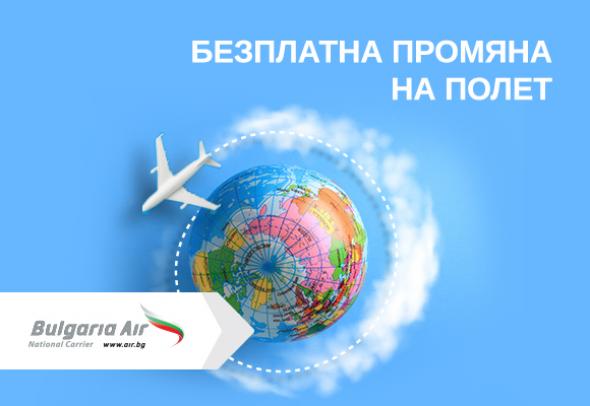 Bulgaria Air introduces flexible conditions for free of charge change of plane tickets, purchased by the end of August
Our passengers' comfort and safety have always been a priority for the national carrier Bulgaria Air. Therefore in the dynamic environment in which the whole world is placed because of the coronavirus, the airline has introduced special flexible and preferential conditions in case of someone needs to change their travel plans.
Anyone who has purchased their plane ticket between July 15, 2020 and August 31, 2020, can take advantage of 1 free change of date or name of their ticket, or change of destination. The change of date or name is completely free of charge, without a re-issuance fee and without paying a difference in the price for the newly selected flight. In case the passenger changes his destination, this will also be completed free of charge for re-issuance.Additional payment will only be needed if there should be a difference in the pricing fare for the flight to the newly selected destination. In case the price of the new ticket is lower than the one originally paid, the difference cannot be refunded.
The new preferential terms apply to all those who have purchased their tickets between July 15 and August 31, 2020 and for travel that will begin until March 31, 2021. To take advantage of the opportunities provided, passengers must contact the ticket issuer, and if it is purchased through the website or application of Bulgaria Air, they must contact the Customer Service Center of the airline via email callFB@air.bg.
The flexible conditions are part of Bulgaria Air's aspiration to meet all the needs of its clients in the challenging and constantly changing situation in the world due to the coronavirus.
The national carrier continues to fulfill its mission to fly, and so far more than 65% of the airline's flight program has been restored. Bulgaria Air operates flights to all its direct domestic and European routes, which do not have local restrictions, and even launched additional frequencies to some of the most popular transfer points in Europe - Amsterdam, Frankfurt and Athens, as well as to Berlin and Zurich.
All flights of the national carrier are performed under even stricter hygiene and organizational measures, regular disinfection, and in the interest of the health of passengers, a rule has been introduced for mandatory wearing of protective masks by all passengers and crew who are on board.
Bulgaria Air.
Fly good, feel safe.