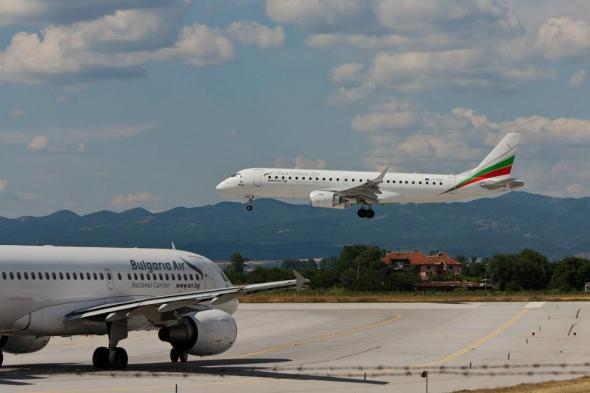 Bulgaria Air in fulfillment of its mission to fly - already with over 65% of its flight program and planned additional flights
Dear passengers,

The national carrier Bulgaria Air has not suspended its flights, even in the conditions of the declared pandemic by Covid-19. In the period March-May, the introduced general restrictions necessitated a reduction in the frequencies of certain routes, others were merged, but we maintained operations to almost all our destinations, except those that were forcibly lifted due to the bans imposed by the respective countries. Nevertheless, the airline is constantly fulfilling its mission - to provide reliable and safe transportation to all who need it.

At the moment, we have already restored 65% of our flight program for all regular routes to Europe and in the country, which aims to better meet your needs for a safe and secure flight at convenient days and hours.
In response to increased demand, in July and August we planned additional flights to the most preferred transfer points in Europe - Amsterdam and Frankfurt, as well as to Berlin, Zurich and Athens. As in the summer months, our flights to Amsterdam on some days of the week are two a day. The direct flights we offer to Athens - operated by Bulgaria Air, as well as in a code share with Aegean Airlines, are a total of eight per week, and with the additional ones in August, with a convenient morning schedule and connections to the Greek islands, we provide the opportunity for long weekend with departure on Thursday and return on Monday. Domestic flights to Varna are operated three times a day, and daily seasonal flights to Bourgas have started.

The safety and health of you, our passengers, has always been paramount to us, so we assure you that we have taken the highest possible hygiene and safety measures on board our aircraft. Before and after each flight, all surfaces and seats in the passenger compartment and cabin are completely disinfected with detergents that are effective for 24 hours. The air in the planes is constantly renewed through the engines, as all planes of Bulgaria Air are also equipped with special air HEPA filters, which eliminate up to 99.998% of all bacteria and viruses. Hot water, soaps and disinfectants are provided in the sanitary facilities on board.
In the interest of your health, we have introduced a rule for mandatory wearing of protective masks by everyone during the flight and from March only bottled mineral water is offered on the flights.

Bulgaria Air is always at your disposal and just a click away. You will find up-to-date information about all flights of the national carrier at www.air.bg.

Thank you for your trust! We are waiting for you on board Bulgaria Air and we wish you a pleasant flight!
With respect,

The Bulgaria Air team