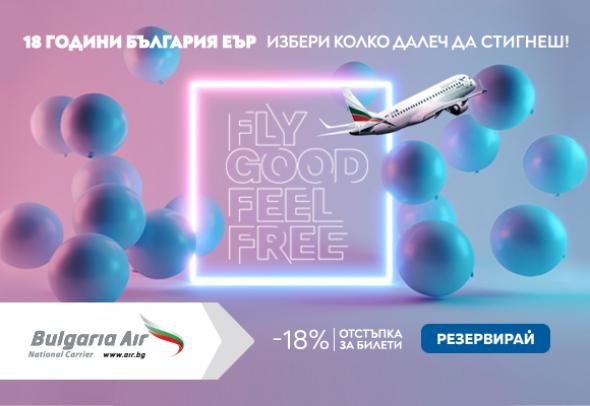 Bulgaria Air has reached the age of majority: We are celebrating our 18th birthday with -18% discounts on our plane tickets
Today, exactly 18 years ago - on December 4, 2002, the national carrier Bulgaria Air performed its first flight in the direction Sofia - London - Paris - Sofia. Today, the airline already operates up to 24 direct destinations in Europe, maintaining two domestic routes that connect Sofia, Bourgas and Varna, and thanks to its dozens of partners provides passengers with the opportunity to visit almost every corner of the earth.
The health situation in the world "took away the wings" of many people for whom sky was home. At the same time, however, air transport continues to be one of the safest and most beautiful ways to travel, and Bulgaria Air's mission over the past 18 years has always been to bring people closer to their goals, enabling them to fly. Therefore, on the occasion of its 18th birthday, the national carrier of Bulgaria has prepared special surprises for its passengers.
On the 4th, 5th and 6th of December, as a compliment to the passengers, everyone can take advantage of a -18% discount when booking and purchasing airline tickets from the airline.
Anyone who wants to use the special discount can do so today by purchasing their ticket through the Customer Service Center at callFB@air.bg or visiting the offices of Bulgaria Air in Varna, Shumen, as well as the city office in Sofia. During the weekend, tickets with a -18% discount can be booked only through the Customer Service Center.
The three-day promotional offer is just one of the special surprises the airline has prepared for its important anniversary. Expect more details about what's coming soon.
Information on all flights that Bulgaria Air performs under strict hygiene and organizational measures, after thorough and deep disinfection with licensed detergents and UV rays, can be found at www.air.bg .
All aircraft of the national carrier are equipped with special HEPA filters that constantly renew the air during the flight and filter it at a temperature of over 200 degrees Celsius.
For additional peace of mind for passengers, hot water, soap and disinfectants are provided on board, and to ensure maximum flexibility for all passengers, the national carrier has a convenient policy for free revalidation of already purchased airline tickets. More information about it can be found here: https://www.air.bg/bg/covid-19/vyzmojnosti-za-vasheto-pytuvane