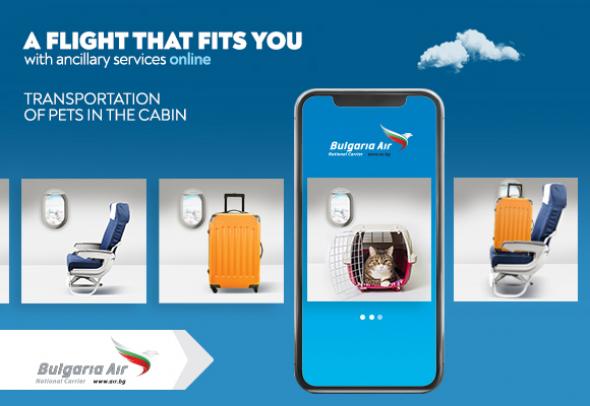 The service for requesting a pet on board is now available online also
Bulgaria Air knows that pets are part of every family. That's why the national carrier has made it even more comprehensible to request their onboard transportation.
From January 5th, a new online service of the airline company was launched, which giveseach passenger the opportunity to book online transportation in the passenger cabin of their pet. The functionality can be used in the process of booking a flight online to a selected destination or with an already purchased ticket through the "Check Booking" option on the website or mobile application.
The new online service applies to dogs and cats that, together with the cage, weigh up to 8 kg. The maximum cage size must not exceed 48 x 35 x 22 cm. Passengers of the airline can take advantage of the service of transporting their four-legged friends on all direct routes operated by Bulgaria Air, with the exception of Great Britain.
More information about the conditions for the carriage of pets in the passenger cabin can be found HERE.
With the introduction of the new site functionality, part of the airline's product portfolio, "Bulgaria Air" strives to meet all the needs of its customers, providing them with the highest quality and speed of service. The development and improvement of all services offered continues to be a priority for the national carrier.