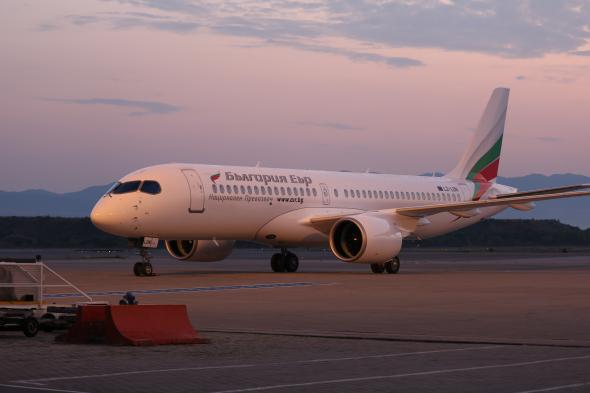 The second modern Airbus A220-300 aircraft of Bulgaria Air arrived in Sofia
On 24 August, Bulgaria Air welcomed its second A220 from its order for a total of 7 new Airbus aircraft. At exactly 00:55, LZ-LON landed at Sofia Airport after two consecutive flights from the Airbus production center in Mirabel to Oslo and then from Oslo to Sofia.
The airline is continuing its fleet renewal with new, greener, and more modern aircraft from the Airbus family that provide a high level of passenger comfort in Business Class and Economy Class and have a significantly lower environmental footprint than their predecessors.
The LZ-LON is the second aircraft of the more enormous A220-300 modification. The first model of this type, the LZ-ROM, arrived in June and is already operating regular flights on domestic and international routes. Delivery of another brand new A220-300 is expected by the end of the year.
With its fleet replacement, Bulgaria Air once again confirms its strategy of expanding its service portfolio and improving customer service to benefit passengers and their comfort.
The new A220-300 aircraft has 8 seats in business class and 135 in economy. The non-standard 3-by-2 seat configuration provides a broader aisle and 80% passenger seating in preferred seats next to a window or aisle. Other significant benefits include wider business and economy class seats, USB ports for charging electronic devices, and increased cargo volume. The size of the portholes has been increased by 50% compared to the A320's predecessors, ensuring a brighter and more comfortable cabin from where you can enjoy spectacular views from 10,000 meters up.
The Airbus A220 has 25% lower fuel consumption, reduced emissions by 25%, and the noise footprint is 34% lower than the previous generation aircraft. This makes the A220 highly suitable for airports close to urban areas, and the plane's operation is another step forward in implementing the airline's green policy.
The second aircraft is expected to enter commercial operation and serve Bulgaria Air's passengers on domestic and international routes as soon as it passes through the registration process.
The national carrier offers its passengers convenient summer flight times that give them more options to plan their leisure time. Passengers have the quick and easy option of requesting extra baggage and choosing their seat on the plane online. More information on all the additional services offered can be found HERE.