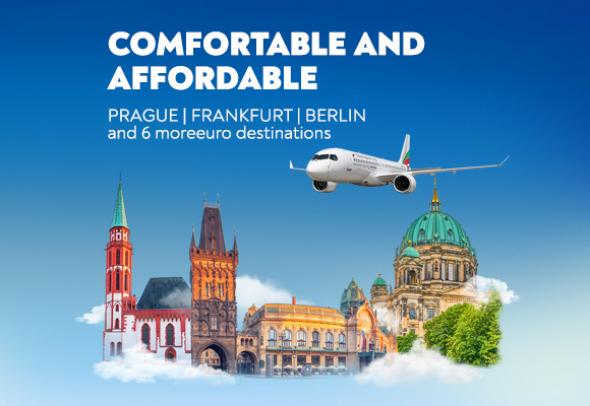 Preferential prices of Bulgaria Air's flights to another three European destinations – Prague, Frankfurt and Berlin
The National Carrier adds three more destinations to the autumn promo and extends further the period of purchase. The promotional conditions for booking tickets to Prague, Frankfurt, and Berlin begin on October 29th, expanding the already valid promotion of direct flights to Paris, Amsterdam, Rome, London, Brussels, and Zurich in autumn. Bulgaria Air's customers can now buy tickets at preferential prices for as many as nine destinations – loved European cities, well-known for their rich cultural and historical heritage. The national carrier offers comfort at affordable prices through a wide range of attractive options. The promotion period is now extended until November 15th and is valid for flights to the nine famous European cities starting before March 31st, 2024.
Prague is well-known for its rich history and traditions, as well as for its significant cultural heritage. The historical center of the city offers a lot of historical sights, including the Prague Castle, the Charles Bridge, and the Old Town Square. Don't miss the National Museum of the old capital, too, because it represents the varied history and culture of the Czech Republic and includes extensive collections of archaeological objects and historical, scientific, and artistic exhibits.
The gripping atmosphere, together with the historical sights and the authentic European spirit of the Czech capital city, Prague, is available only for prices starting at EUR 99 for a one-way ticket.
At the same time, Frankfurt is the heart of contemporary Europe and an old imperial city located on the banks of the Main River. It is an important cultural and tourist center and hosts attractive music and sports events, along with the impressive museums, galleries, and gardens. Here, you can walk around the old town called Roemerberg and visit the home of the Germany's most important writer, Johann Wolfgang (von) Goethe.
The capital of Germany, Berlin is the European Union's most populous city and offers an immense variety of options to visit in each season. Many sightseeing tours, events, and entertainment venues are available.
The constant intensity of cultural events in the German megalopolises Frankfurt and Berlin are waiting for you to discover them this autumn at prices from EUR 89.
Your dream autumn-winter holidays in Western Europe or a gripping trip to some of the cities with the richest heritage of the Old Continent are only one flight away. Book a ticket in economy class and receive 1 pcs. 10 kg baggage, handbag or laptop, in-flight catering (hot and cold drinks, water, a sandwich, and Bulgaria Air chocolate bar), and check-in, all free of charge.
The Bulgarian national carrier offers all passengers comfortable online check-in before the flight, as well as the possibility to add baggage and choose your seat online. You may find more information about the additional services HERE.