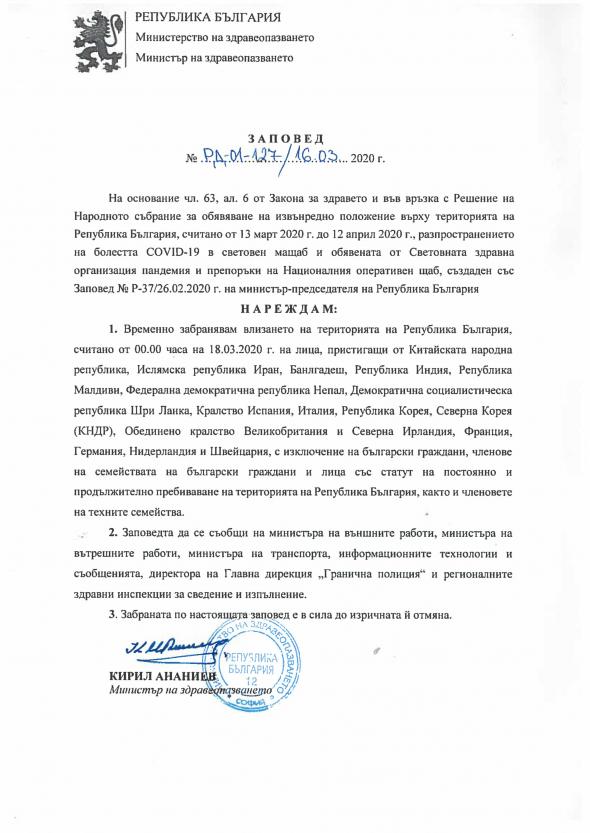 Order of Ministry of Health from 16th March 2020
ORDER
No РД-01-127/16.03.2020
On the basis of Article 63, Paragraph 6 of the Health Act and related to the Resolution of the National Assembly declaring a State of Emergency on the territory of the Republic of Bulgaria as of the 13th of March 2020 until the 12th of April 2020, the spread of the COVID-19 disease worldwide and the Coronavirus being officially declared a pandemic by the World Health Organization, and the recommendation of the National Operational Headquarters, established through Order No P-37/26.02.2020 by the Prime Minister of the Republic of Bulgaria

I ISSUE THE FOLLOWING ORDER

1. I temporarily forbid the entry on the territory of the Republic of Bulgaria, as of 00.00 hrs. on the 18th of March 2020 of persons travelling from the People's Republic Of China, the Islamic Republic Of Iran, Bangladesh, the Republic Of India, the Republic Of Maldives, the Federal Democratic Republic of Nepal, the Democratic Socialist Republic of Sri Lanka, the Kingdom of Spain, Italy, the Republic Of Korea, The People's Republic of Korea (PRK), the United Kingdom Of Great Britain And Northern Ireland, France, Germany, the Netherlands, and the Swiss Confederation, with the exception of Bulgarian citizens, members of the families of Bulgarian citizens and persons with a Permanent and Long-term Residents' Status on the territory of the Republic of Bulgaria, as well as members of their families.

2. This order should be communicated to the Minister of Foreign Affairs, the Minister Of The Interior, the Minister of Transport, Information Technology and Communications, the Director of Main Directorate Border Police and the regional Health Inspectorates for their consideration and implementation.

3. This Order will stay in force until it is explicitly cancelled.


Kiril Ananiev
Minister of Health

Russia temporarily restricts entry into the Russian Federation of foreign nationals