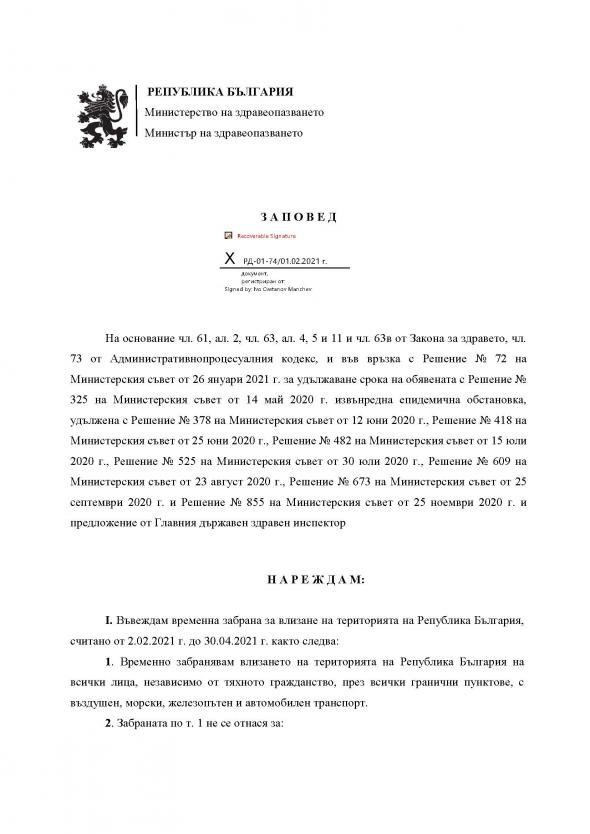 New requirements for entering Bulgaria
The new regulations for entry into the Republic of Bulgaria, issued by the Minister of Health are valid until 30.04.2021.

All persons who are allowed to enter the territory of Bulgaria according to the order are obliged to provide a negative result from a PCR test for coronavirus, made not earlier than 72 hours before arrival.

Bulgarian citizens and those with the status of permanent, long-term or long-term residence in the country, who do not provide a document for a negative PCR test, are placed under a 10-day quarantine. There is a possibility to reduce the quarantine when providing a negative PCR test, made within 24 hours of entering the country.

The full text of Order RD-01-74 / 01.02.2021, which describes all the exceptions to the imposed measures, can be found HERE and HERE.
We remind you that everyone on the territory of the Republic of Bulgaria should be familiar with and comply with the adopted measures and rules related to the prevention of the spread of COVID-19. Useful information can be found on the website of the Ministry of Health and the Ministry of Interior.
Kind regards,
The Bulgaria Air team