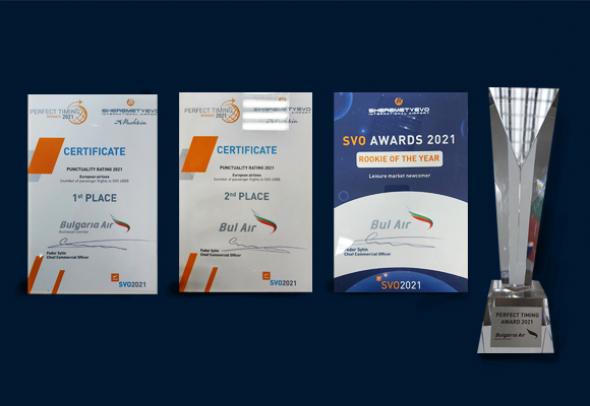 Moscow Sheremetyevo International Airport awards Bulgaria Air and Bull Air
The National carrier Bulgaria Air received another award.
The airline was awarded the prize for punctuality and accuracy in its flights from Sheremetyevo Airport, Moscow. This happened at the annual SVO Awards 2021. They were presented at an official ceremony on December 16. On behalf of Bulgaria Air, the prestigious award was accepted by the Bulgarian representative of the airline in Moscow, Ivan Ivanov.
"It was with great honour that I accepted the award. This is another recognition of the quality product that the airline offers to its passengers. We strive to constantly improve our product and meet the high expectations of passengers. "This award shows that our efforts are appreciated by passengers, which is the greatest recognition we can receive," he said.
The national carrier of Bulgaria was awarded for accuracy in the performance of scheduled flights in the category for airlines that perform up to 500 flights per year. Other major airlines were honoured during the ceremony in the categories for the most punctual carriers in Russia, in the Asia-Pacific region, as well as for carriers at Sheremetyevo Airport, which operate more than 500 flights a year. Receiving a prize from the annual awards at Moscow International Airport is a prestige for any outstanding airline. Sheremetyevo Airport has the most powerful terminal infrastructure in the country - five passenger terminals with a capacity of 80 million passengers per year, the newest of which are designed and built taking into account the highest 5-star standards of Skytrax. The airport's modern infrastructure, which includes three runways, can serve up to 110 million passengers a year.
The airline Bul Air, which is part of the airline family of Bulgarian Airways Group, part of which is also Bulgaria Air, also was awarded for punctuality in the performance of its flight in the category for up to 500 annually performed flights. The company won the second place.