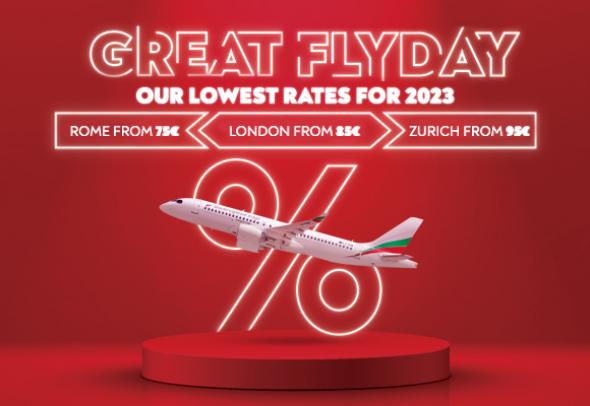 GREAT FLYDAY with Bulgaria Air!
At the end of November the national carrier announces a special Black Friday promo for direct flights to all international destinations. Only in the period 17-30 November you can book a ticket for economy or business class at a special price and travel until 31 March 2024.
Travellers can immerse in the historical environment of Athens or Rome at special prices, starting at 75 EUR for one-way ticket in economy class. Otherwise, you can take a walk in the charming megalopolises such as Berlin, Frankfurt and London at prices starting at 85 EUR. You can book one-way ticket to European capitals such as Paris, Madrid, Brussels or Prague, as well as to cities with rich cultural heritage like Amsterdam and Zürichat the lowest price for the year, starting at 95 EUR.
The ticket to these destinations in economy class for each passenger includes free 1 pcs. hand baggage up to 10 kg and 1 handbag/laptop which makes the low price even more attractive. Every passenger shall also receive free catering on board – a sandwich, a bottle of water, hot and soft drinks and a chocolate bar. In addition to the tempting offer for flights in economy class, you shall also be entitled to free and fast check-in.
To the passengers who need more personal space during the flight, Bulgaria Air also offers promo tickets in business class for the same period and booking until the end of November. Business class passengers shall enjoy a four course meal, highest level of comfort on board and personal service. Tariff benefits include also priority check-in, priority boarding and the possibility to bring more luggage - 2 pcs. hand baggage up to 15 kg in total and 2 pcs. checked baggage up to 32 kg each.
Bulgaria Air business class offers a wide range of conveniences, while prices start at 269 EUR for one-way flight to the Greek capital Athens or the Eternal City Rome. Don't miss the sights of Berlin, Frankfurt and London and book a comfortable flight for prices starting at 329 EUR. The pleasure to fly at the highest level of comfort during the whole winter season to popular destinations such as Brussels, Prague, Zürich, Madrid, Amsterdam, and Paris is available starting at 389 EUR.
The fare from Zurich is accordingly in CHF, from London in GBP.
The national carrier offers its passengers convenient online check-in, as well as the options to add baggage and choose your seat through our website or the mobile app. For more information about the additional services, click here.