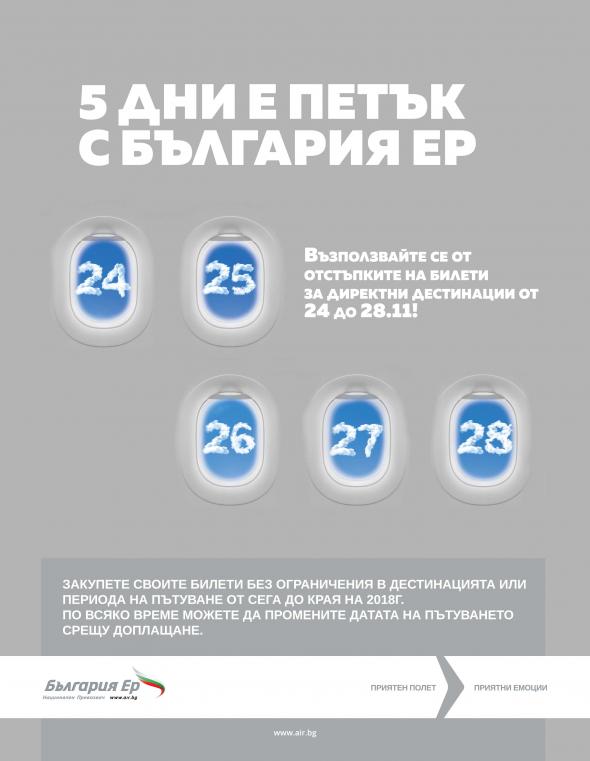 Five days of low-priced tickets organised by Bulgaria Air
With the growing euphoria of the upcoming big sales in late November this year, the national carrier Bulgaria Air is also preparing a special surprise for the travelers - but longer and bigger! This year Friday will be 5 days with Bulgaria Air. Starting 24th November, the national airline will launch a five-day campaign with tempting low-priced tickets. The campaign will continue until 28th November.
During these 5 days, everyone can buy low-priced tickets for all direct Bulgaria Air flights, departing from Sofia. The special surprise is that there are no restrictions on the chosen destinations or travel period - they are valid all year long and can be used until the end of 2018. Therefore passengers can exploit the opportunity to invest in their future trips by buying lower-priced tickets now and use them for flights until the end of next year. For greater planning flexibility, the date of the flight can be changed at any time after an additional payment.
Ticket prices to Rome, Milan, and Athens will be the lowest - one-way tickets will cost 49 euros and return tickets are priced at 99 euros.
One-way flights to Frankfurt, the exotic Larnaca, and the beautiful Barcelona will cost only 59 euros, whereas return flights are priced at 119 euros. The flight to Berlin will also be priced at 59 euros, while the return ticket will cost 109 euros.
Prices for one-way tickets to Vienna, London and Madrid are 69 euros, while return flights to the capitals of the United Kingdom and Spain cost 139 euros. For Vienna, the return ticket price is 109 euros.
The promotional campaign also includes tickets to Moscow, Palma de Mallorca, Málaga, and Lisbon. One-way flights to those destinations are 99 euros and the return tickets cost 199 euros.
Bulgaria's five-day campaign starts at 00.01 am on 24th November and will continue until 23.59 pm November 28th.
Everyone can purchase their tickets via the Customer Service Center at +359 2 402 04 00 or by e-mail: callFB@air.bg, online via the airline's website - www.air.bg, or from the agent's network.
Five day-friday with Bulgaria Air.
Fly good, feel good!