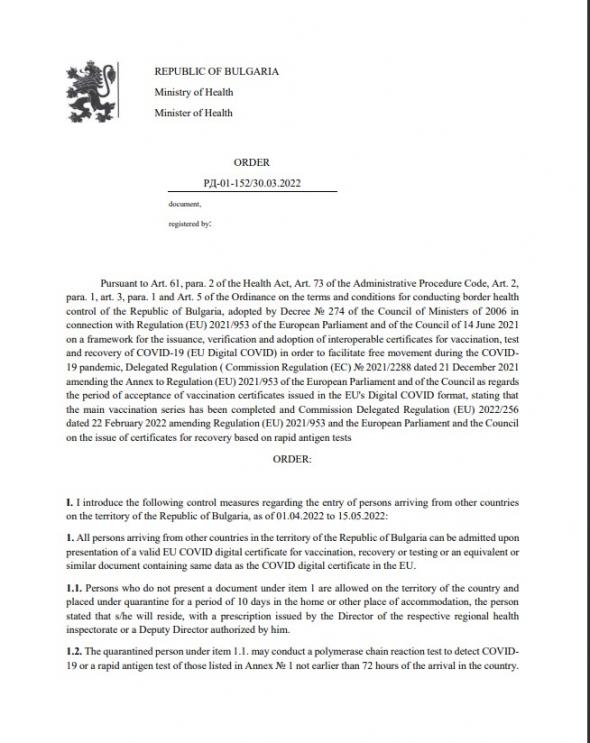 Facilitated conditions for all аrrivals in Bulgaria - Important information

Ministry of Health of REPUBLIC OF BULGARIA is introducing the following control measures regarding the entry of persons arriving from other countries on the territory of the Republic of Bulgaria, as of 01.04.2022 to 15.05.2022:

1. All persons arriving from other countries in the territory of the Republic of Bulgaria can be admitted upon presentation of a valid EU COVID digital certificate for vaccination, recovery or testing or an equivalent or similar document containing same data as the COVID digital certificate in the EU.

1.1. Persons who do not present a document under item 1 are allowed on the territory of the country and placed under quarantine for a period of 10 days in the home or other place of accommodation, the person stated that s/he will reside, with a prescription issued by the Director of the respective regional health inspectorate or a Deputy Director authorized by him.

1.2. The quarantined person under item 1.1. may conduct a polymerase chain reaction test to detect COVID_19 or a rapid antigen test of those listed in Annex № 1 not earlier than 72 hours of the arrival in the country. In case of a negative result of the conducted test, the quarantine of the person shall be considered terminated from the day of registration of the result in the National Information System for Combating COVID-19.

The Order shall enter into force on 01 April 2022.
The full text can be downloaded here