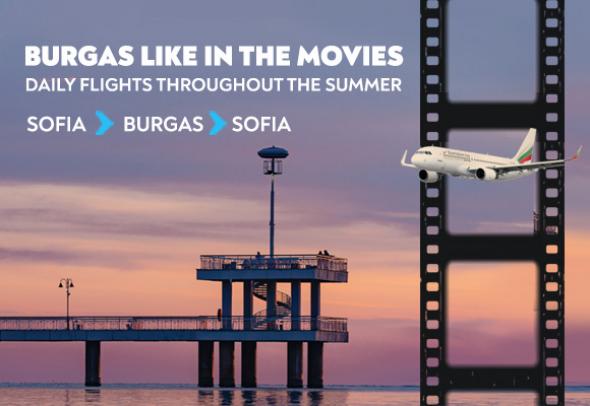 Daily flights to Burgas with Bulgaria Air during the summer season
After the successful launch of the seasonal route between the capital and Burgas on June 23, Bulgaria Air will offer its passengers daily flights to the sea destination. From June 30, the domestic line Sofia - Burgas - Sofia will be operated every day during the most active part of the holiday season.
With the national carrier's evening flights, passengers can reach Burgas in less than a movie time or head to the capital after a well-deserved rest. The freedom to plan a sea holiday with the option to depart any day of the week is another reason to visit the beautiful beaches.
Burgas and the region of the Southern Black Sea coast offer a variety of opportunities for sea and cultural tourism with the many museums and cultural sites, balneo and SPA, ornithology, wine tourism. Guests of the city during the summer season can visit some of the famous events such as the Festival of Sand Figures, the International Film Festival Burgas 2023 and many others.
Escaping the stress of the work week and relaxing by the waves is now closer than you expect. The full schedule of daily flights on the seasonal line Sofia - Burgas - Sofia can be found in section Destinations .
Prices for a one-way trip to Burgas start from 50 euros in economy class and the ticket includes hand luggage up to 10 kg, handbag or laptop, free hot and cold drinks, water and chocolate on board, along with free 24-hour check-in before flight.
The national carrier offers its passengers a convenient flight schedule during the summer season to ensure maximum connectivity between destinations and optimal opportunities for planning a business trip or family vacation. Thanks to the improved functionalities of the site, passengers have a quick and easy option to request additional baggage and choose a seat on the plane online. More information about all additional services offered can be found HERE.