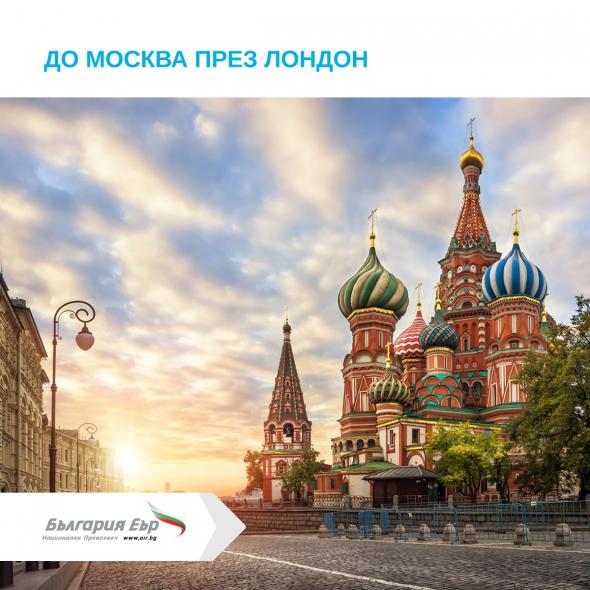 Bulgaria Air with new opportunities for travel between Sofia and Moscow
Bulgaria Air with new opportunities for flights between Sofia and Moscow

Bulgaria Air passengers can take advantage of new travel opportunities between Sofia and Moscow. Thanks to the expanded partnership of the national carrier of Bulgaria with the Russian airline Aeroflot, passengers can now get from Sofia to Moscow and back by transfer through London.

Thus, despite the direct flights between Bulgaria and Russia temporarily suspended due to the COVID-19 pandemic, Bulgaria Air gives everyone who needs to travel in this direction the opportunity to do so.

The flights have convenient connections, without wasting hours at the transfer point, as the section Sofia - London is operated by Bulgaria Air, and London - Moscow by Aeroflot. They are planned 5 times a week - every Monday, Wednesday, Friday, Saturday and Sunday. The price of the plane tickets includes both hand luggage up to 10 kg and checked baggage up to 23 kg. Online check-in is available up to the end point and in two directions - with departure from Sofia and vice versa - with departure from Moscow.
All flights of Bulgaria Air are performed in accordance with the highest hygienic and organizational requirements, after detailed disinfection with special preparations. HEPA air filters guarantee high air quality during the flight, and for additional safety and in the interest of the health of passengers, the wearing of protective masks by everyone on board the aircraft is mandatory.
With respect,
The Bulgaria Air team