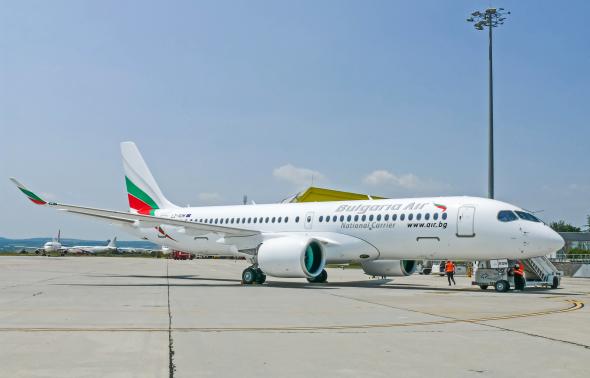 Bulgaria Air with a water salute for the first demonstration flight of the new Airbus A220-300 aircraft
Bulgaria Air is among the first European carriers to renew its fleet with seven modern Airbus A220 passenger aircraft with A220-100 and A220-300 modifications. The national carrier will use the new model for its regular routes as early as 2023, and passengers will very soon benefit from all the novelties and amenities that the plane offers.
On July 12, the demonstration flight of the first Airbus A220-300 from Sofia to Varna and back took place. On board the plane were representatives of the management of "Bulgaria Air", and upon landing, the flight was greeted with a water salute at Varna Airport. A beautiful water salute was also held at Sofia Airport after the plane landed in the capital on the same day.
The delivery of the first larger Airbus A220-300 aircraft to Bulgaria took place on June 18, and two more aircraft of the more compact Airbus A220-100 modification are expected to arrive by the end of the year. In the larger A220-300 model, 8 seats are provided for passengers in business class and 135 seats in economy class, and the smaller A220-100 series offers 8 seats in business class to 114 seats for the economy
The executive director of "Bulgaria Air" Hristo Todorov said that the new seven Airbus A220 aircraft replace part of the previously operated machines in the fleet of the national carrier and will become the backbone of the airline in the execution of regular flights.
The aircraft fleet of "Bulgaria Air" is being renewed with more modern, more ecological and economical aircraft, using 25% less fuel and with reduced harmful emissions. The planes have a 50% smaller noise footprint, suitable for airports in urban areas.
The Bulgarian airline will operate the new aircraft for short and medium-haul flights on its international and domestic routes, providing exceptional comfort and convenience to its passengers. The modern Airbus A220 offers the largest portholes compared to others in the narrow-body class, which ensures more light in the passenger cabin, wider seats in economy class and business class, a greater distance between them for more personal space, a wider aisle, larger luggage compartments. The advantages of the new generation passenger cabin ensure an extremely comfortable experience during the entire flight.
The aircraft features new modular lighting, an adaptive climate system and optimized toilets for passengers with reduced mobility.
The national carrier strives to provide its passengers with the best and most comfortable conditions for pleasant flights with modern Airbus aircraft.