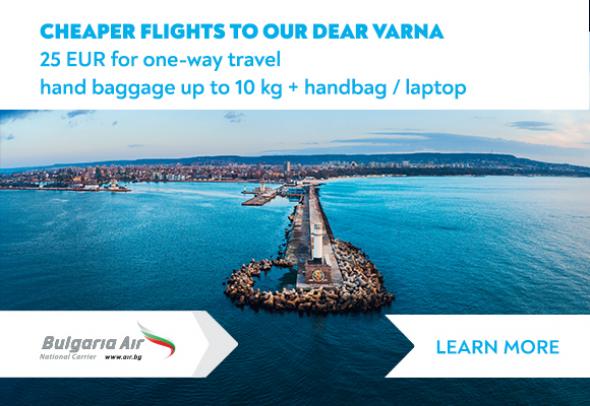 Bulgaria Air with a tempting offer and plane tickets for 25 euros between Sofia and Varna
The national carrier Bulgaria Air has made a tempting offer on its flights between Sofia and Varna. Until September 24, everyone can buy a ticket from Sofia to our sea capital or back for only 25 euros. The price of airline tickets includes the possibility for passengers to take with them for free 1 piece of hand luggage up to 10 kg, 1 handbag or laptop bag, which together with the low price is one of the great advantages for passengers. In addition to the price, free check-in is included, as well as all taxes, and for passengers who want to have more personal space during the flight there is a special promotion for business class tickets.
The promo campaign on the domestic line between Sofia and Varna on Bulgaria Air will last until October 10 and is valid for trips made until October 30. Everyone can book a flight at the most convenient time interval for them, as the airline operates up to 4 flights between the two cities per day, giving you the opportunity to go to one city in the morning and return within the same day.
More details about all current promotions of Bulgaria Air can be found on the website and social networks of Bulgaria Air. You can buy tickets online at www.air.bg , through the Bulgaria Air mobile application. In line with its mission to ensure a comfortable and safe journey, all flights of the national carrier are performed in accordance with the highest hygiene requirements in the interest of peace and health of all passengers and after strict disinfection with certified detergents and UV machine, which the world magazine TIME defines as one of the most innovative inventions for 2020.
Air quality in aircraft is guaranteed by special HEPA filtration systems, which ensure constant circulation of heat-treated air up to over 200 degrees, limiting the possible spread of any contamination by air. More information about all the measures that the national carrier Bulgaria Air has introduced in the interest of its passengers, read here.
Bulgaria Air,
Fly good, feel safe.