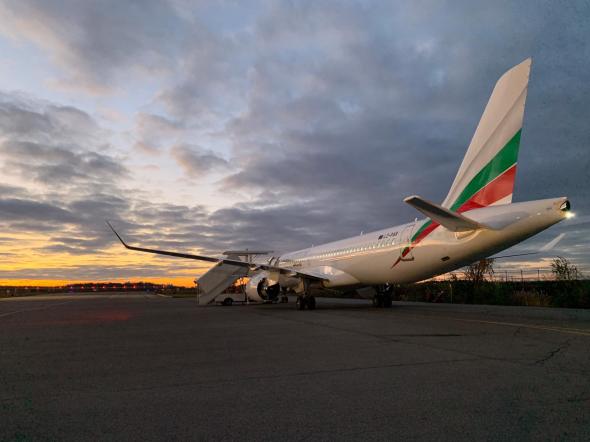 Bulgaria Air welcomes the third Airbus A220-300 aircraft to its fleet
In the early hours of 3 November, with flight FB 9921 from Oslo, the following modern addition to Bulgaria Air's fleet - the third Airbus A220-300 LZ-PAR - landed at Sofia Airport. The airline is modernizing and upgrading its fleet in 2023, offering passengers a high level of in-flight comfort with the commercial operation of the new aircraft on its scheduled routes. New airplanes are more environmentally friendly and fuel-efficient, using 25% less fuel. Airbus A220s have reduced emissions and half the noise footprint.
Passengers can travel highly comfortably in the new aircraft, which offers the widest seats in its class, larger windows, a very bright and quiet passenger cabin, and an adaptive air conditioning system. Functional amenities, such as USB ports for charging electronic devices, are available at every seat. The larger A220-300 aircraft has 143 seats in total, 8 of them reserved for business class, and offers more row spacing. The seating configuration of the A220 is a 3:2 ratio, allowing 80% of passengers to be seated next to the window or aisle.
With its LZ-PAR registration, the national carrier continues the tradition of naming aircraft after major European cities such as the French capital Paris. The previous two Airbus A220s, which arrived in June and August, were registered LZ-ROM /Rome/ and LZ-LON /London/.
Don't miss Bulgaria Air's current autumn promotions, which are valid only until 15 November, when planning your next trip to 9 exciting European destinations - Prague, Frankfurt, Berlin, Paris, Amsterdam, Rome, London, Brussels, or Zurich - at attractive prices and with a comfortable flight on the latest generation single-aisle passenger aircraft.
The Bulgarian national carrier offers all passengers comfortable online check-in before the flight, as well as the possibility to add baggage and choose your seat online. You may find more information about the additional services HERE.