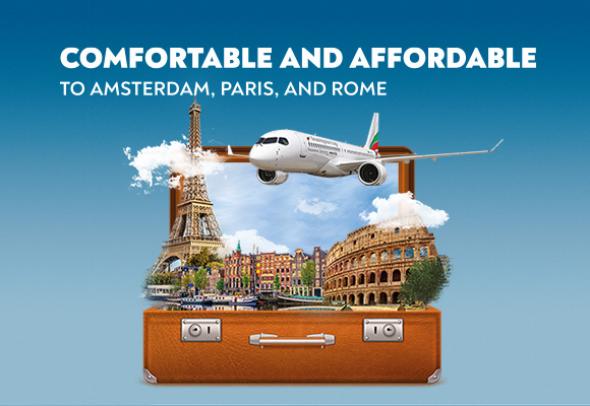 Bulgaria Air welcomes autumn with new promotions
The end of summer is an occasion to plan the next trip. Now the national carrier offers more convenient flights at better prices.
From October 1st to October 15th Bulgaria Air offers better promotional conditions for passengers in Economy class for three regular flights: Paris, Amsterdam and Rome. The promotion covers all flights to and from the three cities until March 31st, 2024.
Enjoy a trip to the most famous European capitals, benefit from our convenient flights. The Economy ticket includes 1 pcs. 10 kg hand baggage, 1 handbag/laptop, free in-flight catering – hot and cold drinks, a sandwich and Bulgaria Air chocolate bar – as well as free check-in.
Paris is one of the best European tourist destinations, suitable for visit in any season. The million dollar views from the Eiffel Tower, the galleries of the Louvre, the splendid Versailles Palace, French wines and a Seine River night cruise are all pieces of the puzzle of this magical city. Book in October only to fly to Paris at special prices starting from 99 EUR for one-way ticket in Economy class. Be flexible and organise your stay choosing one of our daily flights.
Discover Amsterdam's secrets, a modern city with rich culture, history and traditions. Vincent van Gogh's famous museum, the Royal Palace, Ane Frank's house, Madame Tussauds wax museum are all musts. But Amsterdam also offers an exciting canal boat tour, the old city and the business centre which hide plenty of attractive locations known to few. Have an unforgettable holiday with your loved ones starting at 109 EUR one-way, with the possibility to fly on any day of the week.
Rome is really amazing in autumn, tourist spots are less overcrowded, the weather is perfect for long walks and the cozy Italian bistros are more available. Don't postpone your visit to the famous Vatican Museums, the Sistine Chapel, Saint Peter's Basilica, the Colosseum, Castel Sant'Angelo. One-way tickets start from 79 EUR and guarantee comfort with minimum four flights per week.
Fall is the best time for a holiday with friends and family, for a weekend trip somewhere in Europe or to book the next big destination. In October, it's easier and faster to organise a trip with Bulgaria Air, by taking advantage of our special offers which save you time and money for the unforgettable moments to come.
The Bulgarian national carrier offers all passengers comfortable online check-in before the flight, as well as the possibility to add baggage and choose your seat online. You may find more information about the additional services HERE.