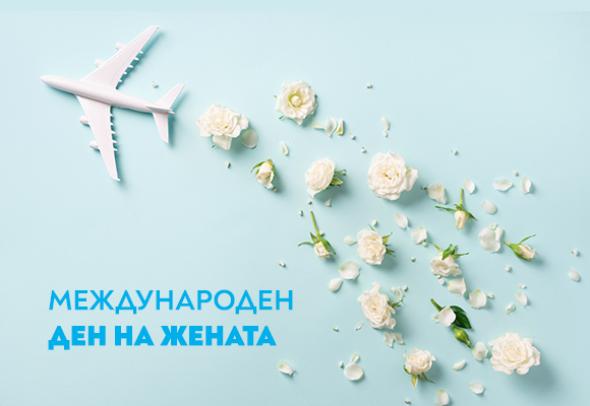 Bulgaria Air surprised the ladies with vouchers for -50% discounts on Women's Day
The surprises for the passengers on board the national carrier Bulgaria Air continue on the most feminine holiday. On the occasion of Women's Day, all the ladies who chose the airline for their flight received as a compliment special vouchers for -50% discount on their next trip to Bulgaria Air.
With this gesture, the company tried to make the holiday of all the ladies on board even more memorable, to motivate them to dream boldly and to plan their next exciting destination and vacation with loved ones. For this purpose, the discount can be used for tickets to any of the company's 32 direct lines when a reservation is made by the end of 2021.
And just a month ago, the national carrier announced another good news - Bulgaria Air is expanding its network of direct scheduled flights with over 10 new attractive destinations.
Passengers can now book tickets for direct flights to the tempting Greek islands of Crete, Corfu and Rhodes, as well as to Thessaloniki, Kiev and Budapest. The flights are planned on convenient days with the possibility of both a long weekend and a week-long summer vacation.
One of the new lines is to exotic Dubai. It starts on September 30 with two flights a week, but for the May holidays Bulgaria Air launches three exclusive flights - on April 30, May 5 and May 10.
The airline has resumed its regular flights between Sofia and St. Petersburg and between Sofia and Valencia, for the summer 2021 season, and tickets for them are also now on sale. Very soon Bulgaria Air will announce the launch dates and many other exotic places, which so far could only be reached by charter flights.

For more information you can follow the website and social networks of Bulgaria Air. You can buy tickets online at www.air.bg , through the mobile application Bulgaria Air, from the offices and representative offices in the country and abroad, as well as from the agency network.

In line with its mission to ensure comfortable and safe travel, all flights of the national carrier are performed in accordance with the highest hygiene requirements in the interest of peace and health of all passengers and after strict disinfection with certified detergents and UV machine Honeywell UV Cabin System II, which the world magazine identifies TIME as one of the most innovative inventions for 2020. Air quality in aircraft is guaranteed by special HEPA filter systems, which ensure constant circulation of heat-treated air up to over 200 degrees, limiting the possible spread of any contamination by air. More information about all the measures that the national carrier Bulgaria Air has introduced in the interest of its passengers, read here.