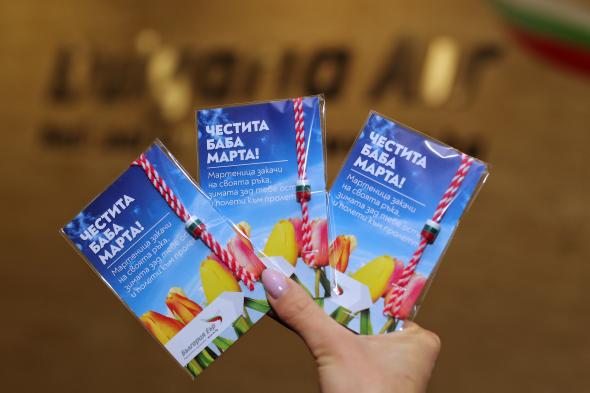 Bulgaria Air surprised its passengers with martenitsi
On top of celebrating one of the most beloved Bulgarian folklore holidays - Baba Marta, the cabin crews of the national carrier Bulgaria Air delighted their passengers on all flights with the beloved traditional symbol - the martenitsa.
The intertwined white and red threads, a symbol of health, love and longevity, fascinated the passengers on board the national carrier, who immediately decorated their hands with them.
With this gesture, the entire crew of Bulgaria Air congratulates its passengers on March 1 with the wish for many exciting flights and unforgettable experiences. This is another compliment that the airline pays to its passengers, in line with its desire to develop, offering ever better conditions for more pleasant and comfortable flights.
The national airline respects Bulgarian traditions and customs, and for this reason, it always strives to prepare a compliment for its passengersfor the biggest Bulgarian holidays to make their experience on board even more positive and pleasant. In this way, foreign passengers also have the opportunity for a touch of the Bulgarian nationality and culture, which is also part of the mission of Bulgaria Air as a national air carrier.