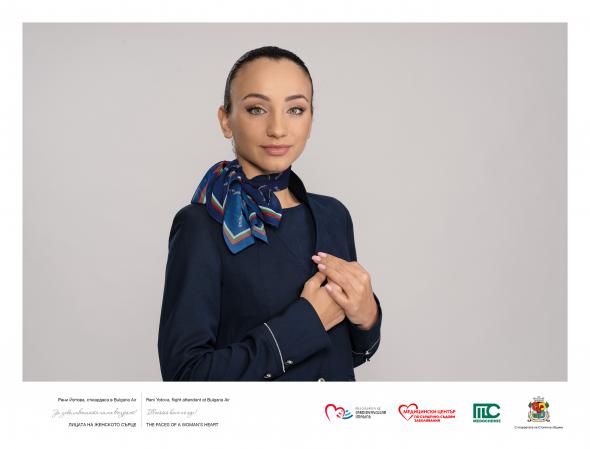 Bulgaria Air supports the campaign "The faces of the female heart"
In the occasion of September 29th, the World Heart Day, the open-air gallery of Sofia Municipality in the park in front of the National Palace of Culture proudly inaugurated the photography exhibition "The faces of the female heart". The idea of the exhibition came from the Bulgarian Association of Cardiovascular Imaging, as part of the XXVIII World Congress of EchocardiographyandAllied Techniquesheld in Sofia, and it continues in October, too.
The event aims at raising awareness of cardiovascular diseases of women and promoting prevention through the means of art. The photographer Katya Taneva who lives between Vienna and New York is the organiser of contemporary art exhibitions in galleries and museums all over the world. 27 women with different professions, of different ages and at different life stages, each one with their own personal history and motivation – posed for Katya Teneva's camera. Among them there are artists, sportswomen, actresses, dancers, a director, a lawyer, doctors, professors, a psychologist, managers, TV hosts, a tram driver and a flight attendant… all women who love their jobs and are passionate about what they do.
The photographer's selection includes the picture of Reni Yotova, an ambassador of heart care and a flight attendant at Bulgaria Air. The message of her portrait is the reminder that "There is no age for diseases". The national carrier supports the purpose of the exhibition to show that women's cardiovascular diseases are avoidable – through art and creation, meditation and breathing techniques, early diagnostics, sports and healthy lifestyle.
"The faces of the female heart" exhibition will be accessible for the public in Plovdiv Medical University until the end of October 2023, too.
The participation of a company's representative at the exhibition, as well as supporting its goals and main messages, is part of the mission of Bulgaria Air as a national carrier.