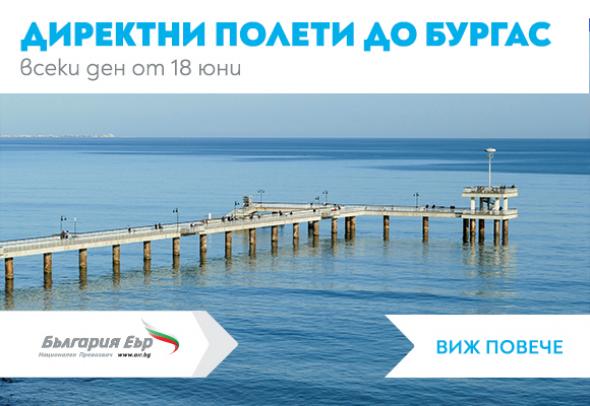 Bulgaria Air seasonal flights between Sofia and Bourgas start
The flights of the national carrier Bulgaria Air between Sofia and Bourgas for the upcoming summer season start on June 18.
In the interest and for the convenience of passengers, flights between Sofia and Bourgas will be operated every day, and tickets can now be purchased both online - through the airline's website at www.air.bg and through the mobile application Bulgaria Air, in the offices of the airline, as well as through the agency network.
In the spring, Bulgaria Air launched regular flights on a number of new direct routes, including the tempting Greek destinations of Thessaloniki, the islands of Crete, Corfu and Rhodes, as well as sunny Dubai.
All flights of the national carrier are performed according to the highest hygiene requirements in the interest of peace and health of all passengers and after strict disinfection with certified detergents and UV machine Honeywell UV Cabin System II, which the world magazine TIME identifies as one of the most innovative inventions for 2020.
Air quality in aircraft is guaranteed by special HEPA filter systems, which ensure constant circulation of heat-treated air to over 200 degrees, limiting the possible spread of any contamination by air. More information about all the measures that the national carrier Bulgaria Air has introduced in the interest of its passengers, read here.