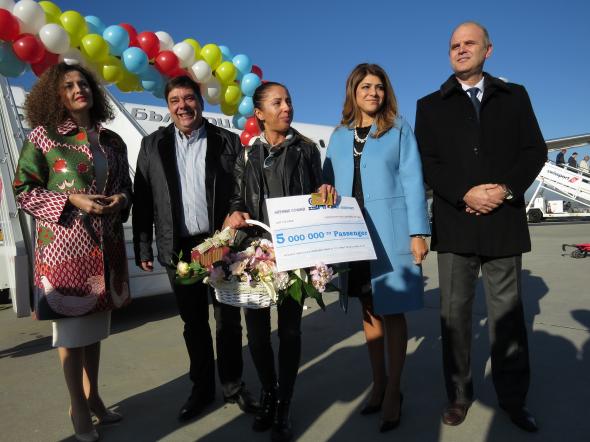 Bulgaria Air's passenger became the Five-millionth traveler of Sofia Airport

Two days before her birthday Petya Stoyanova from Varna received her first gift - she was pronounced the Five-millionth passenger of Sofia Airport. Petya Stoyanova arrived from Varna to Sofia airport on Tuesday morning with Bulgaria Air's flight, where she was greeted with folk music and dances.
The board of directors of Sofia Airport EAD welcomed its Five-millionth traveler and gave it a basket of flowers and a voucher worth 150 euros for shopping in the airport's shops. Bulgaria Air's Executive Director, Hristo Todorov, also welcomed the passenger and gave her the highest golden class card for membership in the loyal Fly More program of the national carrier. With her Petya receives a number of advantages and free travel services with the airline, including a free upgrade of the ticket to the business class, more luggage, free tickets for Bulgaria Air flights for a certain number of trips.
At the ceremony Petya explained she found out about the surprise on board of the plane.
"Shortly before landing, we were told that the flight would be a bit more special because on the board of the plane is the 5 millionth passenger of Sofia Airport this year. Then they announced my name and that surprised me a lot", Petya said.

"Today Sofia Airport has met its 5 millionth passenger. A record that was achieved for the first time in the history of a Bulgarian airport", announced Vladimir Rapandjiev, Executive Director of Sofia Airport.
The happy passenger Petya Stoyanova explained that she often flew between Varna and Sofia. She has chosen to travel with Bulgaria Air because, in her words, "this is the best domestic flight that can be done from Varna to Sofia".
The pleasant experiences for Petya do not end with the surprise at the airport. Just the same day she traveled from Sofia to Barcelona, ​​where she will celebrate her birthday.