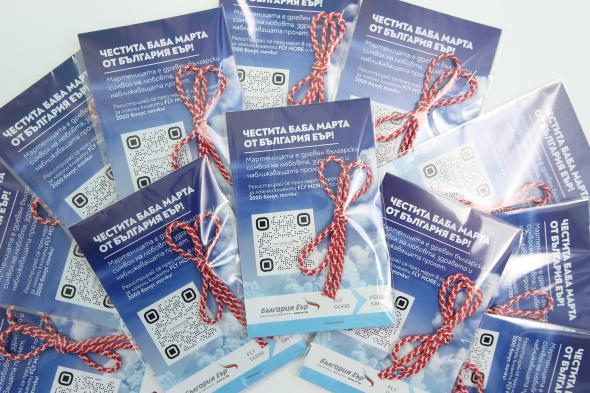 Bulgaria Air passengers were surprised with martenitsas on the 1st of March
In line with its desire to offer a pleasant and comfortable flight, the national airline Bulgaria Air surprised all its passengers today. On the occasion of the holiday, Baba Marta, today, on March 1, the cabin crew on all flights of the airline gave its passengers martenitsas.
The surprise lit up the faces of the travelers with smiles. Many of them immediately put on their martenitsas and thanked for the wonderful compliment, because of which their day started festively and pleasantly.
Besides the martenitsas, all passengers of the airline will get 2000 bonus points in case they register to the loyalty program of Bulgaria Air – Fly more in March.
With this gesture, the whole Bulgaria Air crew congratulated the passengers for the holiday and wished them to be healthy and full of happiness.
This is not the first time that the airline organizes these kind of surprises for their passengers. The national carrier traditionally prepares variety of initiatives for the biggest holidays, offering a more different and more enjoyable traveling for all people on board. Through this initiatives, the airline connects its foreign passengers to the Bulgarian nationality and culture, which is part of Bulgaria Air's mission as a national carrier.
In the dynamic situation, Bulgaria Air takes care of the peace of mind of each passenger, providing flexible opportunities for everyone to postpone their trip if necessary and use their tickets on different dates or to different destinations free of charge.
In addition, the national airline has provided the highest hygienic and organizational measures - part of them is the disinfection of aircraft with modern UV technology, which destroys all viruses and bacteria from the surfaces in the aircraft.