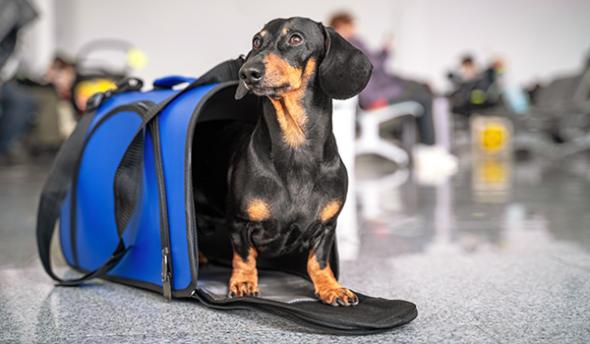 Bulgaria Air lifts taxes for transportation of pets for Ukrainian refugees
Pets are part of every family and therefore in such a complex international situation like the current one, the national carrier Bulgaria Air addresses all Ukrainian refugees, who are fleeing from the war, but do not want to leave their pets behind, with a special act. Specially for them the Bulgaria Air removes all fees for transportation of pets on its regular direct flights.
All travelers with Ukrainian passport or refugee card can take advantage of the facilitated conditions and transport their pet for free until the end of July 2022.
"Because we know they are part of your family" is the motto behind Bulgaria Air's animal transport service, and through its gesture to those in need, the airline is proving its meaning more than ever. Bulgaria Air's decision to help ensure safe and free transportation of the refugees' pets from Ukraine was made as a result of calls from the international non-governmental animal protection organization Humane Society International.
According to the organization, the high fees and animal transport policies of the various airlines have created serious problems in Romania, Poland and Germany and made the transportation of pets unbearable for refugees. At the same time, the European Commission has called on Member States to facilitate procedures for the safe transportation of pets. Seeing the potential to help, Bulgaria Air, which has been known for years for its hospitality to in-flight animals, has abolished fees for transporting dogs and cats for travelers with Ukrainian passport or refugee card.
"Bulgaria Air has always had a very serious corporate social responsibility in relation to various causes, so it is no surprise to anyone that even in a serious situation like the current one, we reach out again, giving a reasonfor smile to hundreds fleeing the war", said Hristo Todorov - Executive Director of Bulgaria Air.
"We applaud Bulgaria Air for being among the first airlines to offer free of charge transport for companion animals of Ukrainian refugees. Transport restrictions for pets can be yet another obstacle in the long trip to safety for those refugees who consider their cats, dogs or other companion animals as family members and refuse to leave them behind", said Ruud Tombrock, Executive Director of HSI/Europe.
"In the past weeks HSI/Europe has reached out to 75 transport companies asking them to do everything within their scope of power and resources to facilitate the access of pets on planes and buses. No one should get separated from their beloved four-legged friend especially in a time of crisis.", added Mr. Tombrock.
The conditions to be met by the transported animals are described in detail on the Bulgaria Air website.
Meanwhile, in addition to this gesture to the Ukrainian refugees, Bulgaria Air continues to offer its pet transport service to all its passengers at reasonable prices. There is no weight limit for dogs and cats that are transported in the luggage compartment. However, certain sizes shall be transported in a cage or transport container of certain dimensions, shall also be marked, at least 3 months old and vaccinated against rabies.
The transportation of dogs and cats in the passenger cabin is possible if the animal weighs up to 8 kg and travels in a cage. More details can be found here