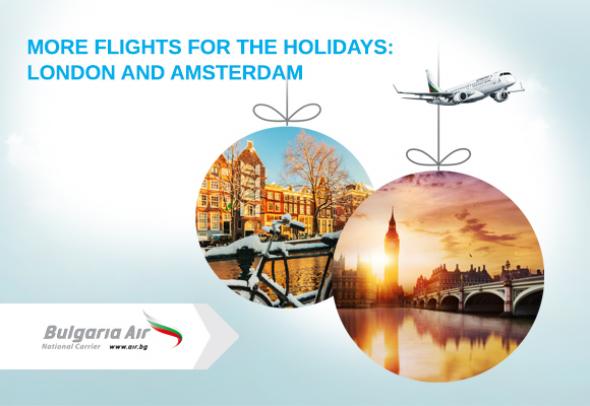 Bulgaria Air launches more flights to Amsterdam and London during the Christmas and New Year holidays
The Christmas and New Year holidays are a special time for everyone. That is why the national airline Bulgaria Air will provide its passengers with more opportunities to gather with their favorites by increasing the number of flights between Sofia and two of the most sought-after destinations, which are also among the largest transfer points in Europe - London and Amsterdam. .

You can find additional information on the required travel documents on the airline's website. In the interest of the safety and health of all passengers, wearing a mask on board Bulgaria Air is mandatory for all, and to minimize the chance of transmitting any infection, the company's aircraft are cleaned and disinfected before and after each flight with special preparations.

In order to ensure maximum protection against COVID-19, Bulgaria Air has put into operation an extremely modern and innovative UV technology for disinfection of its aircraft. Since the beginning of November, in addition to the previous disinfection with certified preparations, before each flight the premises in the aircraft are treated with a specially designed system with ultraviolet rays (UV) - HoneywellUV Cabin System II. The technology has been proven to kill all viruses and bacteria from smooth surfaces.

Bulgaria Air aircraft are also equipped with special HEPA air filters, which eliminate up to 99.998% of all known bacteria and viruses in the air and renew the cabin air every few minutes. In addition to and in line with the recommendations of the aviation and health authorities, hot water, soaps and disinfectants are provided on board the aircraft.