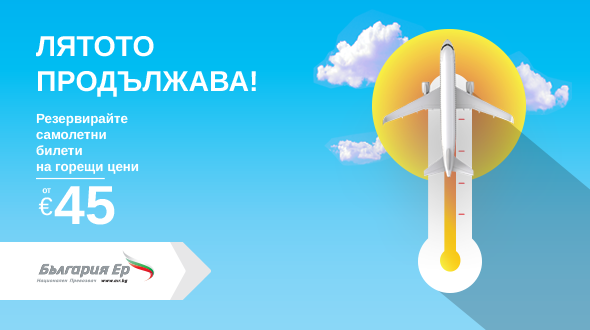 Bulgaria Air launched low-cost airline tickets on all its direct destinations
Although September marks the end of the summer, Bulgaria Air passengers will keep their summer mood thanks to the new promotional campaign launched by the national carrier on all its direct flights. Anyone will be able to book one-way or two-way airline tickets at hot prices until September 30 incl.
The one-way prices of the flights to the exotic Larnaca and the fashion capital Milan start from EUR 59. The prices of the one-way tickets to or from Amsterdam start from EUR 69, to Tel Aviv – from EUR 75, and to Zurich – from EUR 79.
The one-way tickets to and from Paris and Moscow are at hot prices as well. During the campaign anyone can book one-way flight to the beautiful French city at prices starting from EUR 85, and the prices of the one-way tickets to the Russian capital start from EUR 109.
You can find detailed information about the conditions of the campaign and the prices of the airline tickets on the Bulgaria Air website, in section Promotions. You can book your airline ticket online at www.air.bg, at the airline offices, through the agent network or the Customer Service Center at phone: +3592 402 04 00, e-mail: callFB@air.bg.