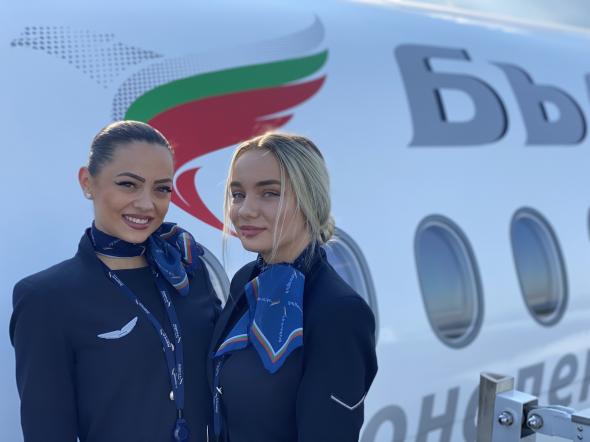 Bulgaria Air is preparing Open Days for the job of the cabin crew
The national carrier is preparing two Open Days – on November 20th and December 4th – for young people who are curious to learn more about the job of a flight attendants. How does a regular day go on board? What does it mean to travel to many famous destinations and what benefits does the job offer? The visitors of the Open Days shall discover many curious details about international flights,too.
Candidates for new members of our cabin crew can come to the airline building in the city of Sofia, 1 Brussels Blvd. from 10:00 a.m. on both Mondays - 20/11 and 04/12/2023. Phone for information and advance booking: +359 2 4020 431.
Bulgaria Air gives the opportunity to its potential future employees, to experience beforehand the reality of aviation, as well as to try out their first steps in a career where going to work means to go 10 thousand metres up in the sky. As a leader of the sector, the national carrier does believe that it can contributeeffectivelyto the reduction of youth unemployment and to helping well-educated youngsters to pursue a career in Bulgaria.
Being part of the cabin crew is not just a profession, but a vocation. The flight attendants are responsible of taking care of the security of passengers and crew during the flight and, in case of emergency, of providing first aid. The main task of the crew members is to monitor security, observing the appropriate measures, as well as taking care of the maximum comfort of the passengers during the flight. The workplace offers many benefits, a variety of travel opportunities, and the view from the airplane cabin is truly unmatched.
If you enjoy travelling and aviation, don't hesitate to visit the Open Days and transform your passion into a job. If you are interested in becoming part of the cabin crew of Bulgaria Air and you would like to take off towards your dreams, check the conditions and apply HERE: https://tinyurl.com/2tbtxc6k
As a National Carrier, all activities of the airline are guided by the Bulgarian values and traditions – sense of duty, respect, hospitality, working hard, and keeping our word. That's what makes our service particularly reliable, generous and genuinely caring about our passengers' comfort.