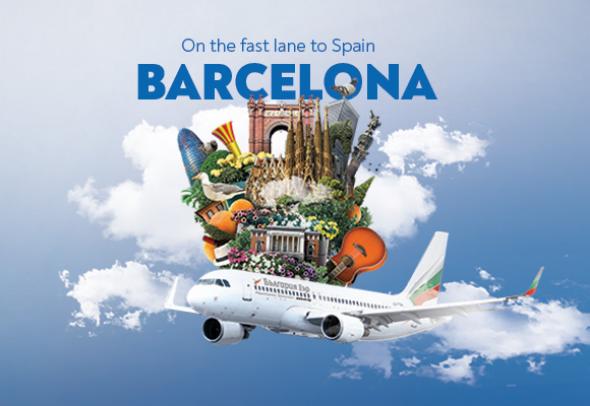 Bulgaria Air has signed a contract for a second codeshare destination with Iberia
After the start of seasonal direct flights to Barcelona at the end of April, the airline pleased its passengers with news about the route to the Spanish destination. At the beginning of May 2023, Bulgaria Air signed an agreement with Iberia that included Barcelona as a second codeshare destination. All flights on the route will be operated by the national carrier of Bulgaria, and the Spanish airline will issue tickets for the two sections on its letterhead. The joint contract between the two airlines also includes the line Sofia - Madrid - Sofia, on which also the main operating carrier is the national carrier of Bulgaria.
Thanks to the cooperation agreement between "Bulgaria Air" and Iberia, many of the preferred summer destinations are even more accessible at the beginning of the holiday season. Apart from being a final destination, Barcelona is also a convenient transfer point for the national carrier's passengers who wish to visit some of the most attractive destinations on the Iberian Peninsula - Porto, Bilbao, the islands of Menorca and Ibiza and many others. In this way, the airline "Bulgaria Air" once again expands the network of destinations it offers to its passengers. Sunny Las Palmas and Tenerife will continue to be just a ticket away this season too with a convenient transfer to Madrid.
Flights on the Sofia - Barcelona - Sofia route will be operated throughout the summer season, which ends on October 28. The schedule includes two frequencies of operation per week - Tuesday and Saturday, which allows for a week-long vacation or a short adventure with rich cultural and historical heritage, golden beaches and crystal clear waters.
The lowest price for a one-way trip to the magnetic Barcelona is only 95 euros in economy class and includes hand luggage up to 10 kg, handbag or laptop, free catering on board, as well as free check-in 24 hours before the flight.
The expansion of the cooperation contract with the Spanish airline Iberia is another step that the national carrier takes in its effort to guarantee its passengers a rich network of attractive destinations at competitive prices and under extremely good terms.