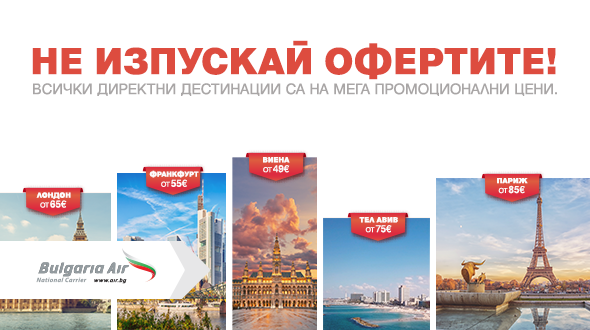 Bulgaria Air has released more than 25 000 airline tickets at promotional prices
The national carrier Bulgaria Air has released over 25 000 airline tickets at promotional prices on all its direct international flights. The campaign with mega discounts will continue until November 11 incl. and the largest ticket promotions are for one-way trips between Sofia and Vienna, Berlin, Frankfurt, Prague, Rome and Milan.
The tickets to the Austrian capital, which is particularly magical in the fall, start from EUR 49, and those to the beautiful Italian towns – from EUR 54. Even more attractive are the prices for trips to Athens, starting from EUR 45. From EUR 55 start the airline ticket prices to Frankfurt, and from EUR 89 – those to Prague.
There are also special discounts to London and Paris. Within the campaign the one-way trips to the UK capital start from EUR 65, and the round trip ones are at prices starting from EUR 143. The one-way tickets to the unforgettable Paris start form EUR 85, and for a round trip – from EUR 172.
As part of the campaign, anyone who wants to visit the beautiful Israeli city of Tel Aviv can buy one-way tickets at prices from EUR 75, and round trip ones at prices from EUR 155. There are also very attractive offers for Bulgaria Air flights to Barcelona, Amsterdam, Madrid and Zurich. All promo tickets should be used until March 31, 2020.
For more information about the mega discounts and booking of airline tickets, visit the Bulgaria Air website www.air.bg.