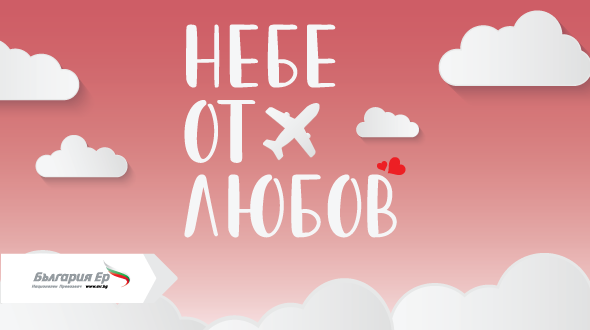 Bulgaria Air gives "a sky of love" with a new plane ticket promotional campaign for Valentine's Day
Less than two weeks before February 14, the most romantic day of the year and in the St. Valentine's euphoria, Bulgaria Air launched a special ticket promotional campaign – "A Sky of Love". Anyone who books a ticket on one of the direct destinations of the airline until February 15 incl., can book another ticket for the same flight with a discount of 30% to 50%.
Among the destinations with biggest discounts for a second round-trip ticket are Vienna (from EUR 85), Milan (from EUR 75), Moscow (from EUR 105), Frankfurt (from EUR 88), Madrid (from EUR 103) and Berlin (from EUR 78). Anyone who wants to give his loved one "a sky of love" can book tickets by phone or e-mail to the Customer Service Center of Bulgaria Air, at any of the offices and representatives of the airline in Bulgaria and abroad as well as from the travel agent network. The campaign promo tickets should be used for trips starting before June 30.
In the price of all plane tickets are included a number of amenities that can make the trip even more convenient – I pc. of hand bag luggage up to 10 kg, 1 hand bag / laptop, onboard catering and free check-in.
See all promotional offers HERE and give your loved one a sky of love with Bulgaria Air.