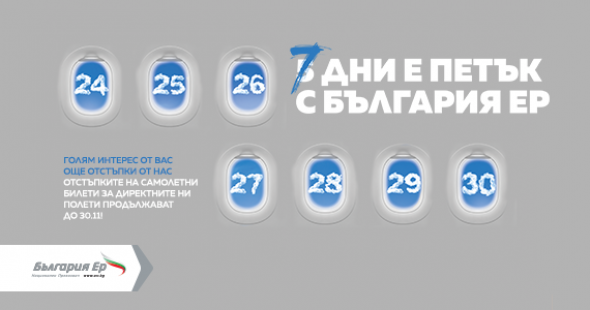 Bulgaria Air extends its campaign for low-priced tickets for another 2 days
The National carrier has prepared a new surprise for its passengers - Bulgaria Air extendes its promotional campaign for low-cost tickets with two more days. The "5 days Friday with Bulgaria Air" campaign started on 24-th November, and due to the continuing interest and constant inquiries from customers, the airline decided to give a bonus of 2 more days for the passengers to benefit from the special ticket prices.
Until 30-th November, passengers can book low-priced air tickets to all direct flights from Bulgaria Air from Sofia and use them by the end of 2018 without any restrictions of the destination or the travel period.
The prices of the tickets still are lowest to Rome, Milan and Athens - the one-way flight costs 49 euros and the two-way 99 euros.
One-way ftickets to Frankfurt, the exotic Larnaca and the beautiful Barcelona cost only 59 euros, and in both directions - 119 euros. The flight to Berlin is also priced at 59 euros, and 109 euros is the travel price in both directions.
The one-way flights to Vienna, London and Madrid are 69 euros and the two-way price ticket for a travel to the capitals of United Kingdom and Spain - 139 euros. For Vienna the two-way price is 109 euros.
The promotional campaign includes also tickets to Moscow, Palma de Mallorca, Málaga and Lisbon. The one-way flights for them are 99 euros and the two-way tickets -199 euros.
Everyone can buy tickets via the Customer Service Center at +359 2 402 04 00 or by e-mail: callFB@air.bg, online via the airline's website - www.air.bg , or from the agent's network.
7 days Friday with Bulgaria Air.
Fly good, feel good!