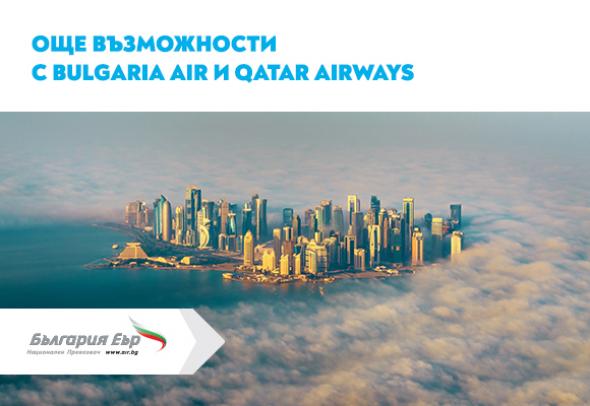 Bulgaria Air expands its cooperation with Qatar Airways
The national carrier Bulgaria Air is expanding its partnership with the world-renowned airline Qatar Airways and now offers its customers even more opportunities to travel between Sofia and Doha and back.

Thanks to the extended codeshare partnership, passengers have the opportunity to choose the most convenient transfer point for their flight to Doha. In addition to flights between Sofia and Doha via Bucharest, they can now travel by choosing a transfer flight via Athens, Prague, Vienna, Rome, Berlin, Frankfurt or Zurich. There are also convenient opportunities for departure from Varna.

Flights from Sofia or Varna to the transfer point are operated by Bulgaria Air, and from the transfer point to Doha - by Qatar Airways. The cooperation between the two airlines allows everyone to buy a ticket for flights from Doha to a large part of the flight network of Qatar Airways, which allows Bulgaria Air passengers to travel to exotic destinations in 5 continents.

The partnership between the two companies is part of the strategy of the national airline of Bulgaria to constantly expand its flight network. As part of this strategy from the spring-summer season, the company opens more than 10 new scheduled flights, including direct flights between Sofia and Thessaloniki, the Greek islands of Crete, Rhodes and Corfu, to Budapest, Kiev, and many other exotic places to come. to be announced soon.

We remind you that the flights of Bulgaria Air are carried out under extremely strict safety measures, as the airline performs constant disinfection of its aircraft with specialized detergents and UV rays with the Honeywell UV Cabin System II machine. In-flight air quality is guaranteed by HEPA air filters. A special organization has been introduced on board, and safety masks are mandatory for both passengers and crews throughout the flight. In addition, crews greet and serve passengers with protective gloves.