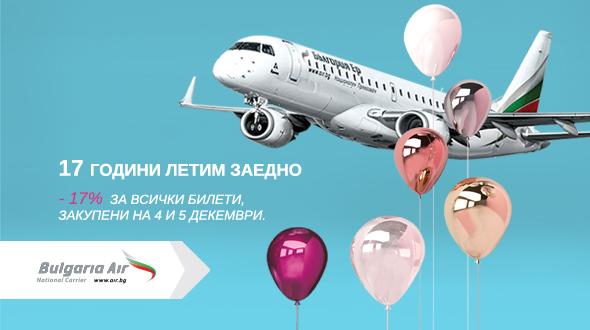 Bulgaria Air celebrates its 17th birthday with special surprises for the passengers
The national carrier Bulgaria Air has prepared exciting gifts for its passengers on the occasion of its 17th birthday. Anyone who congratulates the airline on booking a flight ticket on the 4th, 5th or 6th of December will receive a discount of 17%. The discounted tickets can be purchased through the Customer service center – on phone, by e-mail and also in the offices of the airline in the country and abroad.
Many surprises await the passengers traveling with Bulgaria Air on the 4th of December, when is the airline's birthday. As an additional compliment to them the national carrier will give everyone on board special vouchers for a 17% discount on the purchase of flight tickets for a next flight. In this way the airline shares its birthday with all its passengers and thanks them for their trust through the years.
On December 4th 2002 the first flight of Bulgaria Air on route Sofia – London – Paris – Sofia was performed. Now, 17 years later, the airline operates up to 24 direct destinations in Europe, maintaining two domestic routes, connecting Sofia, Bourgas and Varna. Thanks to its dozens of partners the airline provides its passengers with the possibility to visit almost any place in the world. In the beginning of 2019 Bulgaria Air announced its new partnership with Air Italy, one of the fastest growing airlines of the Qatar Airways group. The partnership between the two airlines allows the passengers to travel inside Italy, the USA and Canada, and to exotic destinations such as the Maldives, Zanzibar and Mombasa.
Bulgaria Air has already won dozens of awards. In the end of 2018 the national carrier was named the "Most preferred airline on the Bulgarian market" by the prestigious Sky Awards 2018 annual contest. On the same ceremony the airline was awarded in two more categories – "Most preferred airline for short and medium routes from/to Bulgaria" (Sky short/middle haul) and "Most preferred airline by the professionals" (Sky Friend).