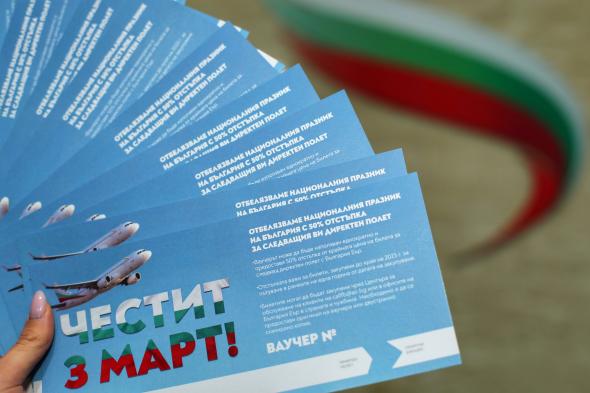 Bulgaria Air celebrated March 3 on board with a surprise for its passengers
On the occasion of one of the most important Bulgarian holidays - the Day of Liberation of Bulgaria from the Ottoman Empire, the national carrier Bulgaria Air made a special gesture to its passengers. All passengers on board the airline on March 3 received as a gift vouchers for a -50% discount when booking the next direct flight to their dream destination on the scheduled routes of Bulgaria Air.
Passengers of the national carrier can use their air ticket vouchers until the end of 2023. They are valid for both domestic and international destinations, and travel must take place within 1 year of the date of ticket purchase. The lucky ones who will take advantage of this surprise have the right to choose for themselves whether they want to travel in business or economy class.
This is yet another compliment of Bulgaria Air to its passengers. On March 1, on the occasion of Baba Marta, the airline presented all passengers on board its planes with beautiful martenitsi, with white and red intertwined threads and a bead with the Bulgarian flag.
The national carrier respects the Bulgarian holidays and with its gestures towards its passengers expresses its gratitude for their trust in choosing them for their flight. Through its initiatives, Bulgaria Air gives its foreign passengers the opportunity for a touch of Bulgarian nationality and culture, which is also part of the airline's mission as a national air carrier.