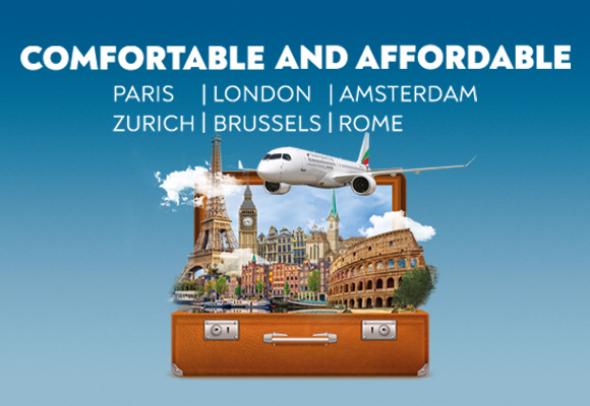 Bulgaria Air adds London, Zurich and Brussels to the promotional conditions and extends the period until the end of October
Lower fares to 6 destinations in Western Europe, as a compliment to our passengers until the end of October
The end of summer is an occasion to plan the next trip. Now the national carrier offers more convenient flights at better prices.
Due to the huge interest in the Autumn promo, Bulgaria Air extends the period until the end of October and adds three new destinations for passengers to visit on preferential rates.
After the promotion began on 1 October, offering flights on three regular lines – Paris, Amsterdam and Rome, the national carrier pleases Economy class passengers with three additional destinations: London, Brussels and Zurich. Thus, the clients of the company may choose to plan an Autumn holiday in one of the six cities, in total. The promotion is extended until October 31st and covers all flights to and from the six destinations until March 31st, 2024.
Enjoy a trip to the most famous Western European capitals, and benefit from our convenient flights. The Economy ticket includes 1 pcs. 10 kg hand baggage, 1 handbag/laptop, free in-flight catering – hot and cold drinks, water, a sandwich and Bulgaria Air chocolate bar – as well as free check-in.
Paris is one of the best European destinations for cultural tourism, and a dream for travellers in any season. Book in October only to fly to Paris and visit its sights at special prices starting from 99 EUR for one-way ticket in Economy class. Be flexible and organise your stay choosing one of our daily flights.
Discover Amsterdam's secrets, a modern city with rich culture, history and traditions. The capital of the Netherlands has a lot to offer: an exciting canal boat tour, the old city and the business centre which hide plenty of attractive locations. You can fly on any day of the week only for 109 EUR one-way.
Rome is really amazing in autumn, tourist spots are less overcrowded, the weather is perfect for long walks and the cozy Italian bistros are more available. One-way tickets to the Italian capital start from 79 EUR and we guarantee your comfort with minimum four flights per week.
London is closer than ever, and the attractive October prices of 89 EUR for one-way ticket for Economy class make it a must in your wish list of the traveller.
Fall is the best time for a holiday with friends and family, for a weekend trip somewhere in Europe or to book the next big destination. The famous European cities – Brussels and Zurich – will show you their history, architecture and unique spirit. 99 EUR for one-way ticket is a tempting offer, isn't it?
It's easier and faster to organise a trip with Bulgaria Air by the end of October, by taking advantage of our special offers which save you time and money for the unforgettable moments to come.
The Bulgarian national carrier offers all passengers comfortable online check-in before the flight, as well as the possibility to add baggage and choose your seat online. You may find more information about the additional services HERE.