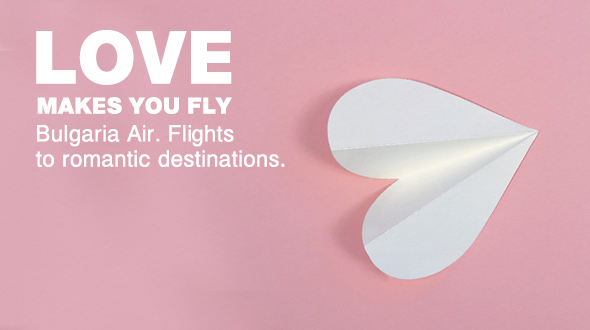 Airline tickets of EUR 40 per direction – with the new romantic promo campaign of Bulgaria Air
As of today, the national air carrier Bulgaria Air is redirecting its flights to the world of love with tempting airline ticket promotions to all its direct destinations. Until February 16th anyone who wants to give himself and his partner a romantic trip as a present for Valentine's Day, or is just planning his next trip, can do it at a special price with Bulgaria Air and the "Love makes you fly" campaign.
The flights from Sofia to the ancient Athens are at great prices starting from EUR 40 for a one-way ticket, and to Vienna – the city where music, art and romance mix – the prices start from EUR 49, one-way, and EUR 88 for a round-trip. And the prices also include 1 piece of hand baggage up to 10 kg, a handbag or a laptop bag, airport taxes, online check-in and onboard catering.
The airline has also a special proposal for those who are in love and who want to feel the greatness of Russia. The prices of the airline tickets between Sofia and Saint Petersburg, the new destination of Bulgaria Air, start from EUR 220 for a round-trip. The round-trip ticket prices to Moscow start from EUR 209. The airline tickets for both Russian destinations include not only hand baggage, but also a checked-in suitcase up to 23 kg, along with all the other compliments from the air carrier.
The airline tickets to two of the Italy's most magnetic cities are at attractive prices as well. As part of the promo campaign, the flights to Milan start from EUR 49, and those to Rome – from EUR 54.
There are also great offers for the Bulgaria Air flights to London, Prague, Cyprus, Berlin, and also to some of the most beautiful and romantic Spanish cities. You can find more information on the airline's website – www.air.bg. All the tickets bought within the promotion can be used for trips starting until June 30, 2020.