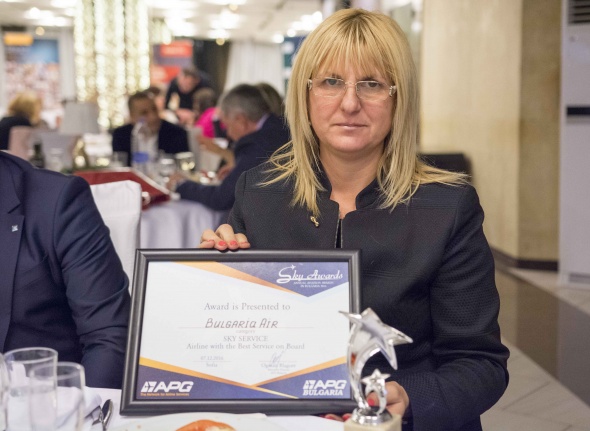 Bulgaria Air with awards for the most preferred airline and best service on board
Bulgaria Air won two prestigious awards at the annual aviation competition Sky Awards 2016
The national carrier was given the prize for most preferable airline among travelers and for best service on board
The national carrier Bulgaria Air won two prestigious awards at the ranking for aviation companies in Bulgaria – Sky Awards 2016. The national carrier won the prize for best service on board "Sky service" and was given the award for most preferable airline among travelers "Sky Favourite".
The awards were presented at a special ceremony on the Day of international aviation - December 7 and winners were selected based on the results of online voting.
Bulgaria Air competed with Lufthanza and Wizz Air for the special award "Sky Favourite" and with Qatar Airways and Turkish Airlines for "Sky Service".
"It is our pleasure and great pride that passengers have given us this assessment. Our efforts to provide maximum comfort to passengers payed off. We promise to continue putting customers first", said commercial director of Bulgaria Air Maria Stoyanova at the ceremony.
Travelers and travel agencies voted at the annual ranking of the Sky Awards 2016. The prestigious competition was held for the second time in Bulgaria. Last year, Bulgaria Air grabbed two awards - the prize of travel agents "Sky Favourite" and the award for the company with the largest market share "Sky Market Leader".