Safety Measures
The national carrier Bulgaria Air works in accordance with all the recommendations of the health authorities, and the introduced measures fully comply with the announced recommendations of the European Union.
Wearing masks during Bulgaria Air flights remains recommended.
Offering a safe and comfortable flight has always been the number one task and priority of the national carrier Bulgaria Air. That is why the airline continues to observe special measures to ensure a safe flight for all passengers.
The crews of the national carrier must serve the passengers wearing masks and sanitary gloves.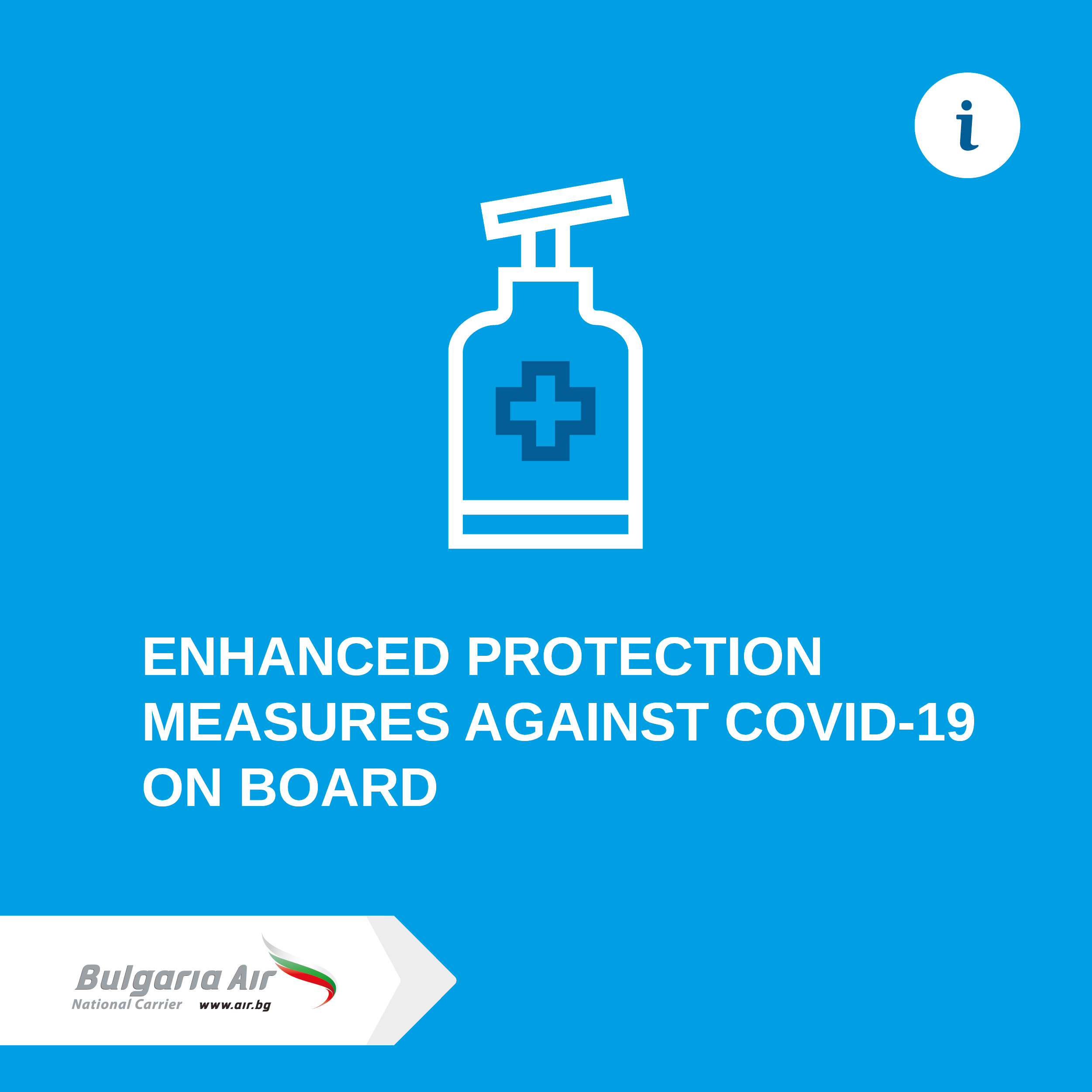 Hygienic requirements for aircraft cleaning remain tight. Before and after each flight, the passenger compartment and sanitary facilities are cleaned exceptionally thoroughly with special detergents. Hot water, soap and disinfectants are provided in the airline's toilets. The air quality in the aircraft is guaranteed by special HEPA filtering systems, which ensure constant circulation of heat-treated air up to over 200 degrees, limiting the possible spread of any contamination by air. From the beginning of November, in addition to the current disinfection with certified detergents and to provide passengers with the highest level of protection and comfort during the travel, before each flight the premises in the aircraft will be treated with a specially designed system with ultraviolet rays. (UV) - HoneywellUV Cabin System II. The technology has been proven to destroy all viruses and bacteria from smooth surfaces.
Touching different surfaces in public places is not recommended, so it is available for travellers to check in online quickly and conveniently before their flight. All Bulgaria Air planes are provided with hot water, soap and disinfectants.
Amid the current coronavirus situation, touching various surfaces in public places is not recommended, so online check-in is available for all passengers resulting in quick and convenient check-in process. Hot water, soap and disinfectants are provided on board. The airline observes the necessary organization to ensure distance between passengers.
The national carrier has reduced some of its flights to countries with travel restrictions, continuing to operate to most of its destinations to enable Bulgarians caught in the pandemic abroad to return safely to their homeland.
Bulgaria Air appeals and welcomes all measures taken by the authorities to prevent the spread of coronavirus and calls on passengers to be responsible for their own health and the health of their loved ones and to travel only when necessary. For all of them, the airline has taken all possible measures to ensure a safe and comfortable flight.