Safety Measures

The national carrier Bulgaria Air operates in accordance with all recommendations of the health authorities, and the introduced measures fully comply with the announced recommendations of the European Union. The airline has established the necessary organization to provide a distance of 1.5 meters between passengers. For times when this is not possible, the EU recommends that passengers wash their hands more often. For this purpose, hot water, soap and disinfectants are provided on board.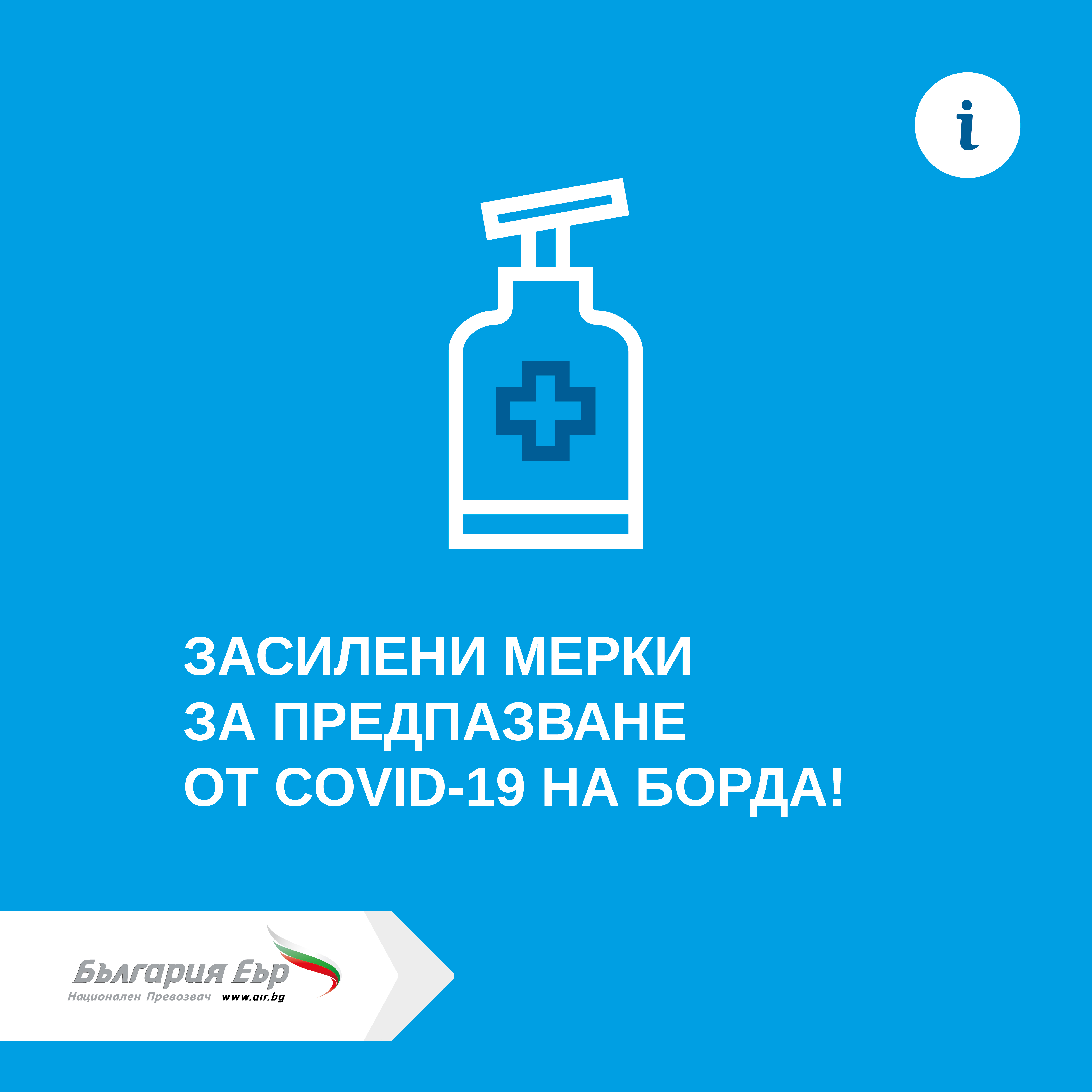 Wearing masks during Bulgaria Air flights is mandatory.
Offering a safe and comfortable flight has always been the number one task and priority of the national carrier Bulgaria Air. That is why the airline has introduced special measures to ensure a safe flight for all passengers.
With prevention in mind, everyone on board Bulgaria Air flights must wear personal protective mask at all times. As of 18.03. on flights operated by the National Carrier, only bottled mineral water is provided.
The cabin crews of the national carrier must be serving the passengers, wearing sanitary gloves. The pilot also wears protective masks and gloves, although he has no direct contact with the passengers. In addition, the airline's cabin crews are aware of all the recommendations of the World Health and International Aviation Authorities and are specially trained to act if a case of coronavirus COVID-19 is detected on board.
The hygienic requirements for cleaning the planes are even stronger. Before and after each flight, the passenger compartment and toilets are cleaned very thoroughly with special detergents. Hot water, soap and disinfectants are provided in the toilets of the airline's aircraft. Air quality in the aircraft is guaranteed by special HEPA filtration systems, which ensure constant circulation of heat-treated air to over 200 degrees, limiting the possible spread of any contamination by air.
Amid the current coronavirus situation, touching various surfaces in public places is not recommended, so online check-in is available for all passengers resulting in quick and convenient check-in process.
The national carrier has reduced some of its flights to countries with travel restrictions, continuing to operate to most of its destinations to enable Bulgarians caught in the pandemic abroad to return safely to their homeland.
Bulgaria Air appeals and welcomes all measures taken by the authorities to prevent the spread of coronavirus and calls on passengers to be responsible for their own health and the health of their loved ones and to travel only when necessary. For all of them, the airline has taken all possible measures to ensure a safe and comfortable flight.