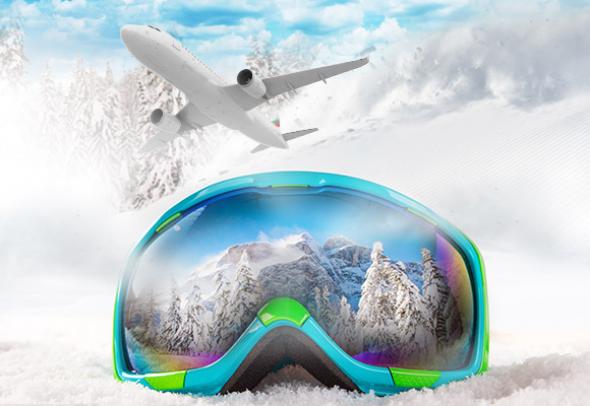 Free transport of ski or snowboard equipment
True to our mission to offer maximum comfort and convenience, this year winter sports fans can take advantage of free transportation of ski or snowboard equipment on all regular direct lines operated by the national carrier.
Every passenger on the flights operated by Bulgaria Air, who wants to conquer the snowy peaks of Europe, including those in Bulgaria, can take a pair of skis, poles and ski boots or snowboard equipment on board free of charge.
In addition to the free transportation of ski or snowboard equipment, the price of airline tickets includes all airport taxes, 1 pc. hand luggage up to 10 kg., 1 pc. checked luggage up to 23 kg. (for rates with checked baggage included) and free check-in. For more information about the flights and to book tickets you can contact the Customer Service Center by e-mail: callFB@air.bg or tel. +359 2 402 0400. Tickets can also be booked online at www.air.bg, through the mobile application Bulgaria Air, as well as in the offices of the airline and through our agency network.
We remind you that all flights of the airline are performed under strict hygiene and organizational measures, after thorough and deep disinfection with licensed detergents and UV rays. All aircraft of the national carrier are equipped with special HEPA filters that constantly renew the air during the flight and filter it at a temperature of over 200 degrees Celsius. For extra peace of mind for passengers, hot water, soap and disinfectants are provided on board.
Have a safe flight with Bulgaria Air!